I saw this "recipe" on Pinterest (of course). Basically, you take an egg and a banana and it turns into pancakes. Awesome, right? Well, consider me a Pinterest-Fail because I did not wind up with pancakes. I cooked them "slow and low" as instructed, but they seriously took forever! And they were mush. So I decided to scramble them because they still tasted good, they just weren't pancake quality.
Well, lo and behold, turns out they are the perfect oatmeal replacement for the kiddos who have really been missing their oatmeal. And because they have such a banana-y (yes, that's a real word, Google it) flavor, it tastes great with chopped up strawberries on top. And no need for any maple syrup or anything else because it's already super sweet!
PS: If you haven't already, go try the nut butter/chocolate version of this stuff. So. Good.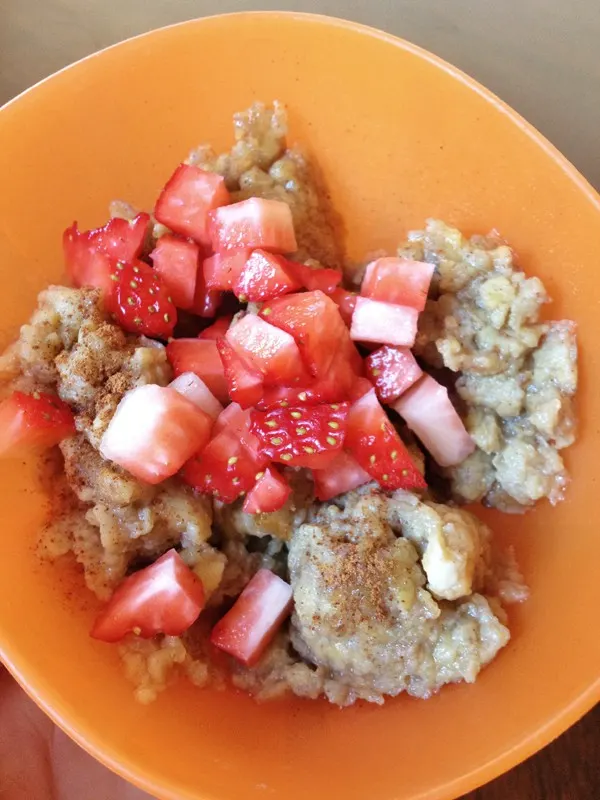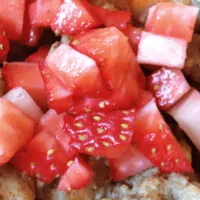 Paleo "Faux"tmeal
Ingredients
1 Banana, Ripe, big, small, doesn't matter
1 large Egg
1 pinch Baking Soda
Splash Vanilla Extract
1 tsp Coconut Oil
Chopped Strawberries, Fresh Blueberries, Sliced Bananas, Chopped Nuts, Unsweetened Shredded Coconut, Chocolate Chips
Instructions
Mash the banana with a fork until it almost smooth and pretty liquified.
Using the fork, beat in the egg until you have a smooth consistency.
Stir in the baking soda and vanilla.
Heat the coconut oil in a skillet over medium-low heat.
Pour the entire banana mixture in the skillet. Let sit for about 30 seconds and then begin gently scrambling with a silicone spatula. Continue gently mixing and flipping until the mixture is cooked through and crispy golden on the outside. You can further break it down into smaller pieces.
Put it in a bowl, add your toppings, and enjoy your guilt-less "faux"tmeal!
Nutrition Information
Yield

1
Amount Per Serving
Calories

224
Total Fat

10g
Saturated Fat

5g
Unsaturated Fat

0g
Cholesterol

210mg
Sodium

355mg
Carbohydrates

27g
Fiber

3g
Sugar

14g
Protein

8g
Nutrition is calculated by a third party and may not be 100% accurate