I was never really a big fan of popcorn. I would eat it, but it's not like I craved it, and I'm certainly not missing it now that I've gone all paleo and stuff. But since I am not eating fruit on the Whole30, and trying to cut back on sweets (even the natural stuff) in general, I've been wanting a snack and salty is where it's at.
The coconut flakes are seriously addicting. Crunchy. Salty. Delicious! I usually make a double batch, and try to make it last a few days. It's hard. Because they are that good.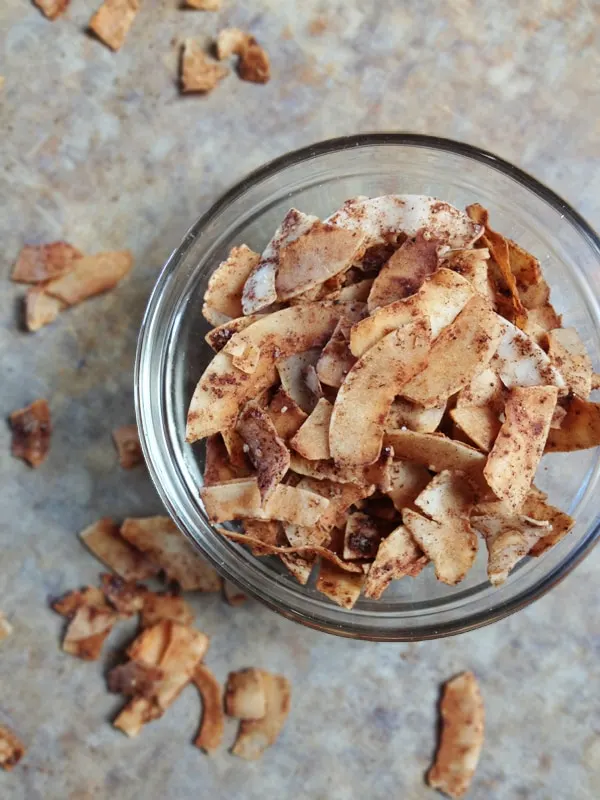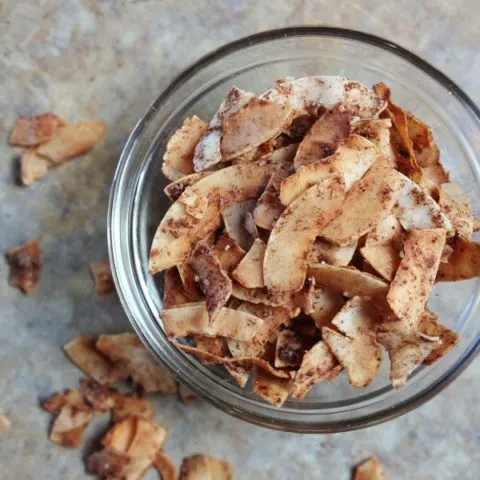 Savory Coconut Flakes
Ingredients
1 cup Unsweetened Coconut Flakes
1 tsp Cinnamon
1/4 tsp Nutmeg
1/4 tsp Allspice
1/4 tsp Salt
1 tsp Coconut Oil, melted
Instructions
Preheat oven to 350F. Line a baking sheet with parchment paper.
Put the coconut flakes in a ziplock back and pour the cinnamon, nutmeg, allspice, and salt on top of it. Give it a quick shake.
Pour the coconut oil in the bag and shake it again, coating all the flakes.
Pour the coconut on the parchment lined baking sheet and put in the oven on the center rack.
Bake for 3-5 minutes, watching carefully the whole time to make sure they don't over-brown or burn. My oven takes a little longer to brown the flakes.
Remove from oven and pan quickly to prevent extra browning.
Eat them all. Or share. But preferably just eat them all.
Nutrition Information
Yield

2
Serving Size

1/2 cup
Amount Per Serving
Calories

306
Total Fat

30g
Saturated Fat

26g
Trans Fat

0g
Unsaturated Fat

2g
Cholesterol

0mg
Sodium

307mg
Carbohydrates

11g
Fiber

8g
Sugar

3g
Protein

3g
Nutrition is calculated by a third party and may not be 100% accurate