Last Updated on October 8, 2021
We are a meat-loving family. When the kids are hungry when we're out running errands, they tend to gravitate to the bags of beef jerky in the store checkout aisle. Have you ever flipped those bags over and checked the ingredient list? ?
Why eat nasty, old, bad ingredient beef jerky when you have a perfectly good smoker at home just begging to make smoked beef jerky?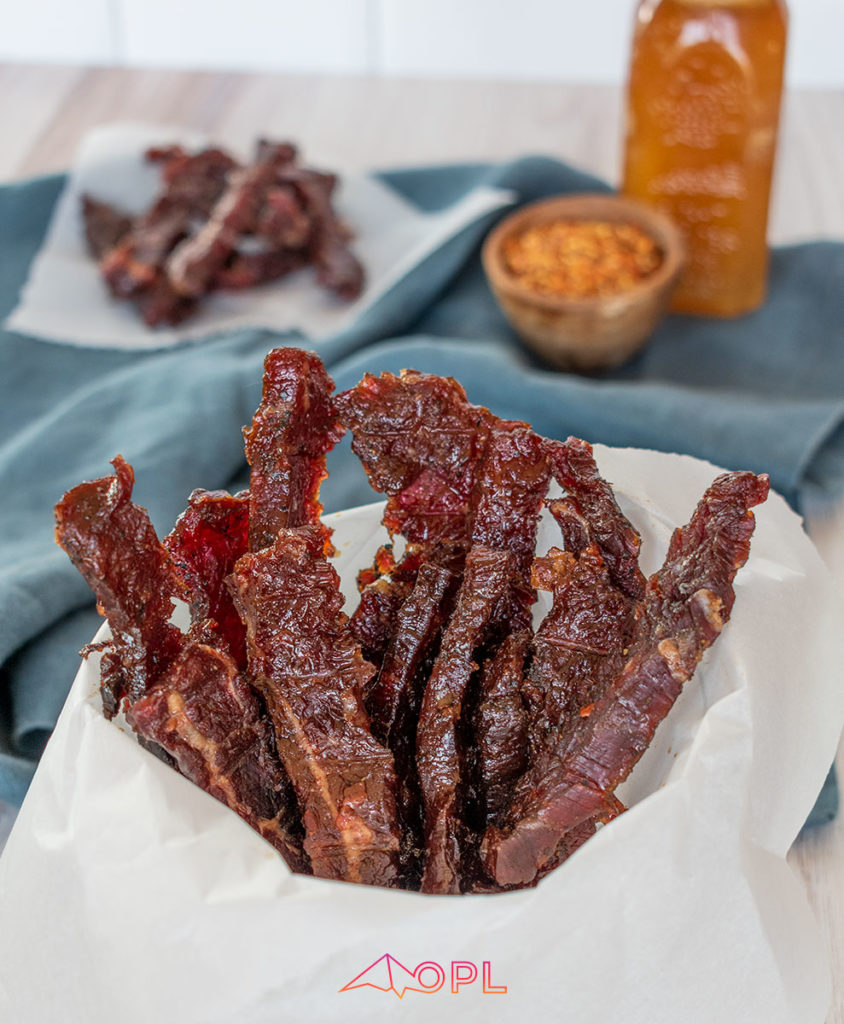 Beef Jerky Ingredients
As with most things we make at home, we do it because we prefer to have control over the ingredients we're putting in our bodies. Beef jerky is no exception. Also, it tastes so. much. better when you make your own.
Sweet & Spicy Beef Jerky
3.5 lb Flank Steak
16 oz Coconut Aminos
1/4 cup Honey (see notes)
2-4 tsp Red Pepper Flakes (see notes)
2 tsp Garlic Powder
2 tsp Onion Powder
2 tsp Ground Black Pepper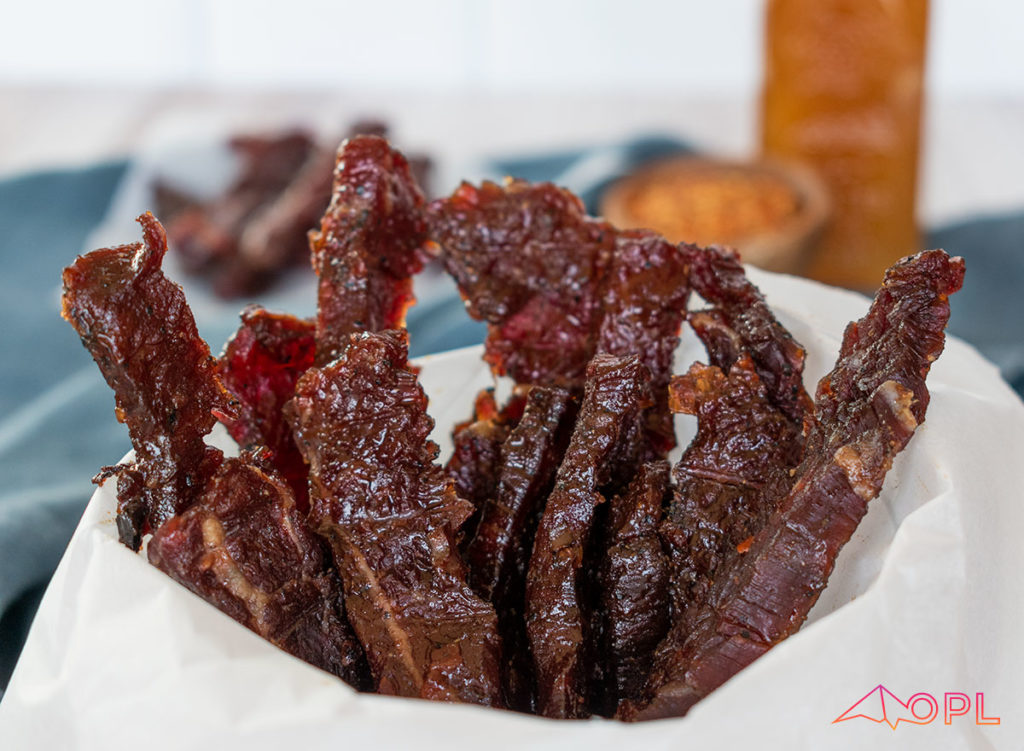 Smoked Jerky
We've been making this version of beef jerky for at least 5 years and it never gets old. We have a food dehydrator, and will make it in there, but the smoker is by far the superior method, resulting in a much better flavor! You just can't beat that naturally smoked flavor.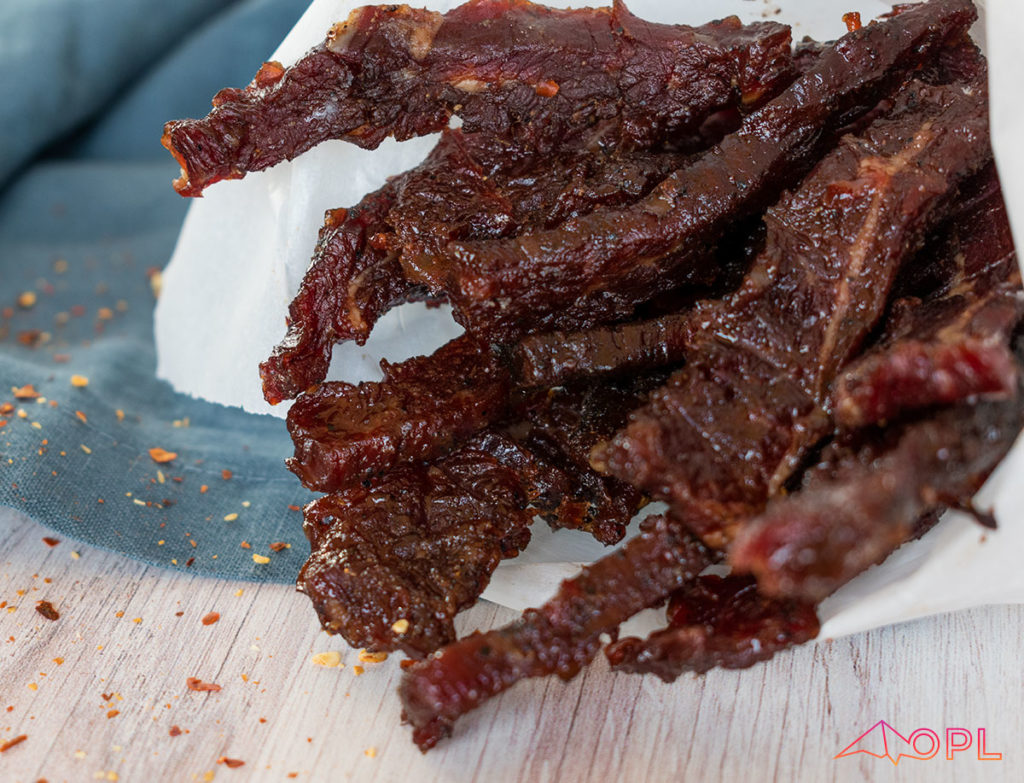 No Unnecessary Ingredients Here!
A lot of jerky recipes call for using liquid smoke. I think I'll pass. I don't want added colors or flavors in my jerky, just the naturally-occurring deep pink color that comes from perfectly smoked beef.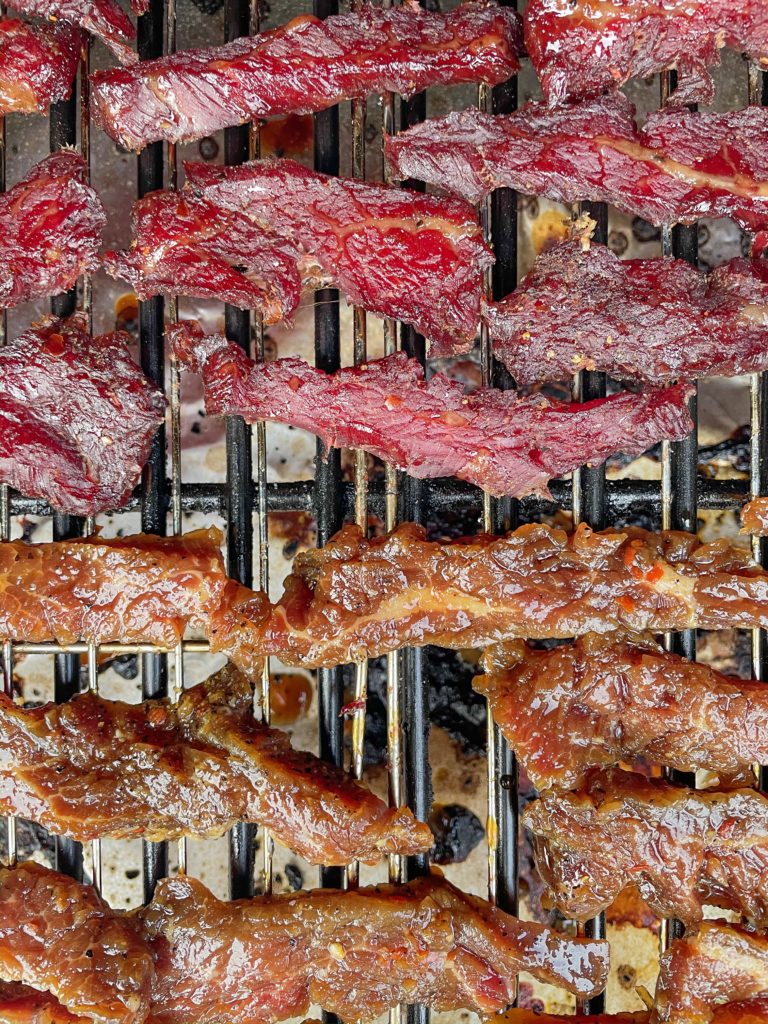 Control How Sweet & Spicy You Want Your Beef Jerky
The beauty in this recipe is that it's adjustable. Want less sweet – use less honey. Too spicy? Cut back on the crushed red peppers.
Soy Free Jerky Recipe
And my favorite part is that there's NO soy sauce! We use coconut aminos instead to keep our jerky soy-free. That's basically impossible to find in the pre-packaged jerky world.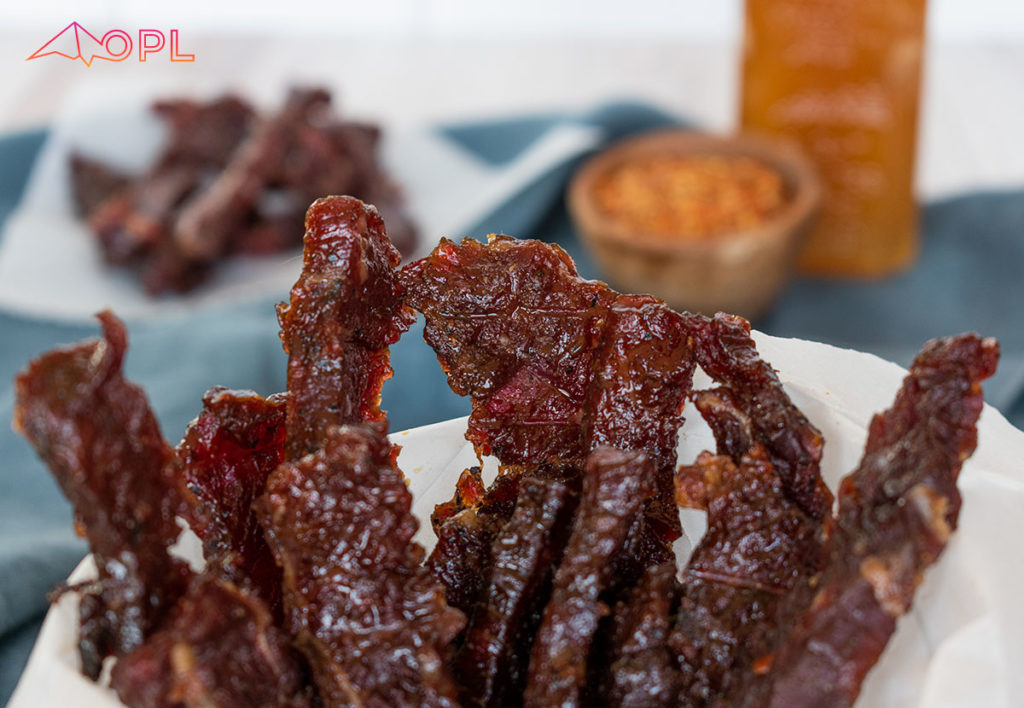 The quantity that this recipe calls for (3.5# of flank steak) disappears pretty quickly among our family of 5, so I like to make a double batch and just keep the smoker running all day, removing the finished jerky and replacing them with more. Each batch takes about 2 – 2.5 hours to finish, so we can get a double batch done in a day and nobody complains about running out of jerky!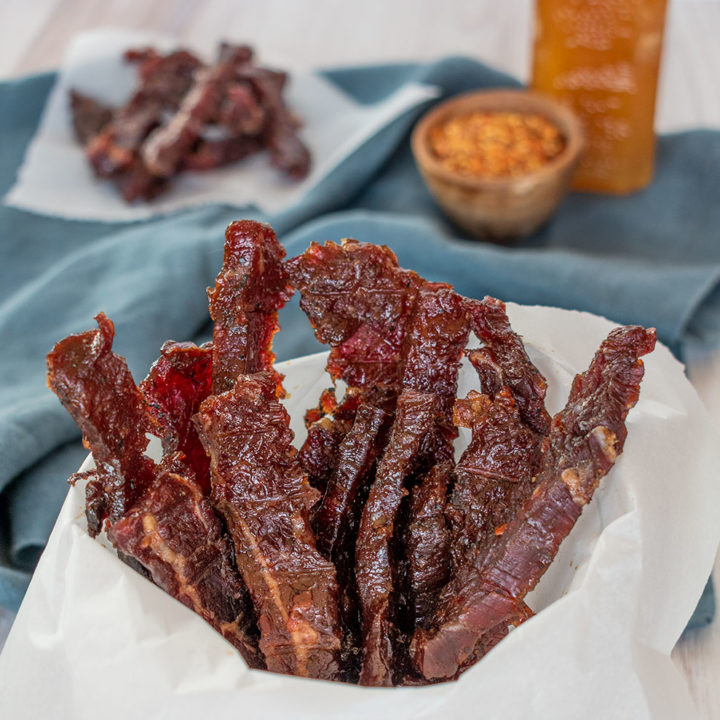 Sweet & Spicy Smoked Beef Jerky
Cook Time:
2 hours
30 minutes
Marinating Time:
12 hours
Total Time:
14 hours
50 minutes
Ingredients
3.5 lb Flank Steak
16 oz Coconut Aminos
1/4 cup Honey (see notes)
2-4 tsp Red Pepper Flakes (see notes)
2 tsp Garlic Powder
2 tsp Onion Powder
2 tsp Ground Black Pepper
Instructions
In a heavy duty gallon-size zip-top bag, combine the coconut aminos, honey, and all spices. Close the bag and massage everything together until it's well combined.
Place the bag in a large mixing bowl, and open the top. You'll be putting the cut beef directly in this bag and keeping it supported by the bowl helps it from falling over while you work.
Cut your flank steak AGAINST THE GRAIN in thin strips no thicker than 1/4". Against the grain is important as this will give you jerky that is much easier to chew! Place the cut strips of beef in the marinade.
Once all the beef is cut up, seal the bag, getting as much air out as possible. Smush things up in there to get all the beef nicely coated with the marinade. Place in the fridge and let sit at least 12 hours. I prefer doing this step right before bed so it's ready to go in the morning.
Using an electric pellet smoker, turn it on to "smoke" with the lid open for about 10 minutes, or until you see smoke. Close the lid and set it to 180°F and let it heat up for another 10 minutes. If your grill grates are too wide apart, you can add non-coated wire cooling racks on top to give you more surface area.
Remove the marinated beef strips from the bag and lay them in a single layer on the smoker grates. Close the lid and smoke for 2 hours. After 2 hours, remove any pieces that are fully done. If you have thicker pieces, keep them in a little longer, but not too long as to overly dry them out.
Let jerky cool at room temp then store in a tightly sealed container in the fridge for up to 2 weeks.
Notes
If you prefer things a little less spicy, only use the 2 tsp of crushed red pepper flakes. Like more, heat, add all 4 tsp (or more, if you like).
Don't want it too sweet? You can cut the honey back to 2 Tbsp for a more spicy/savory jerky.
Pin it: