Yes, there are 8 million recipes for sweet potato fries out there. I know because I have tried quite a few of them. They usually involve some sort of starch coating. And pre-Whole30, when I tried those kind, I failed. Miserably.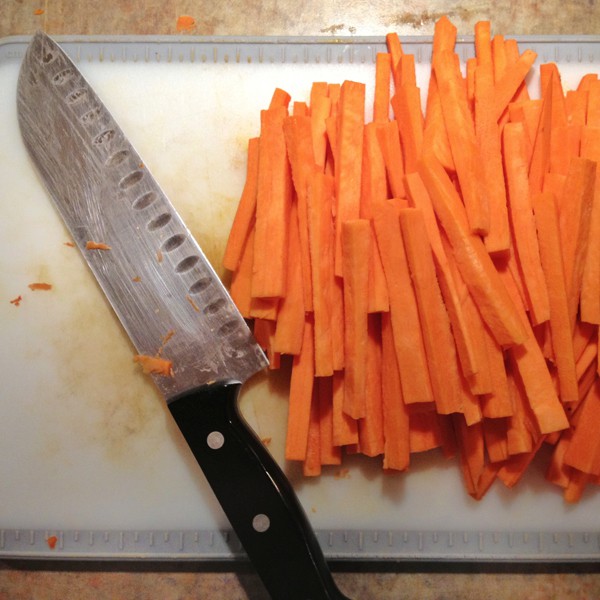 So after making the Bacon-Wrapped Sweet Potato Fries, I realized I didn't need a starchy coating, just oil. Duh. Also, I'm lazy and don't flip my fries halfway through cooking, so they are darker on one side, and bright orange on the other. I don't mind it at all, doesn't affect the taste or crunch one bit. But if you prefer, flip away.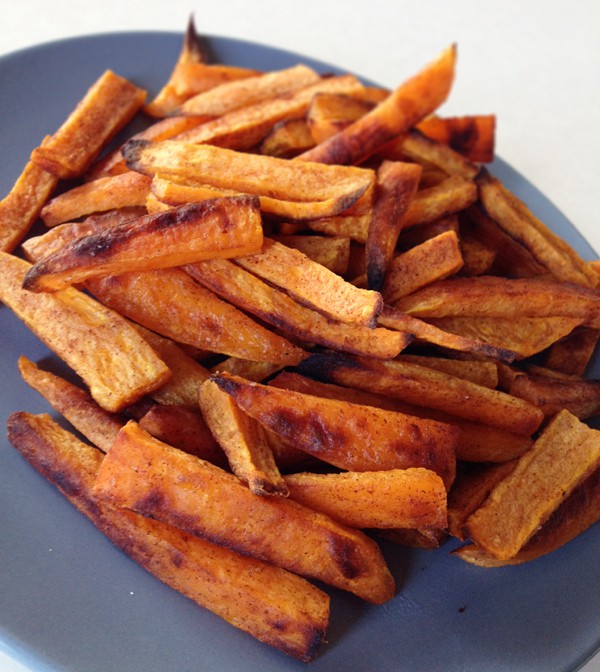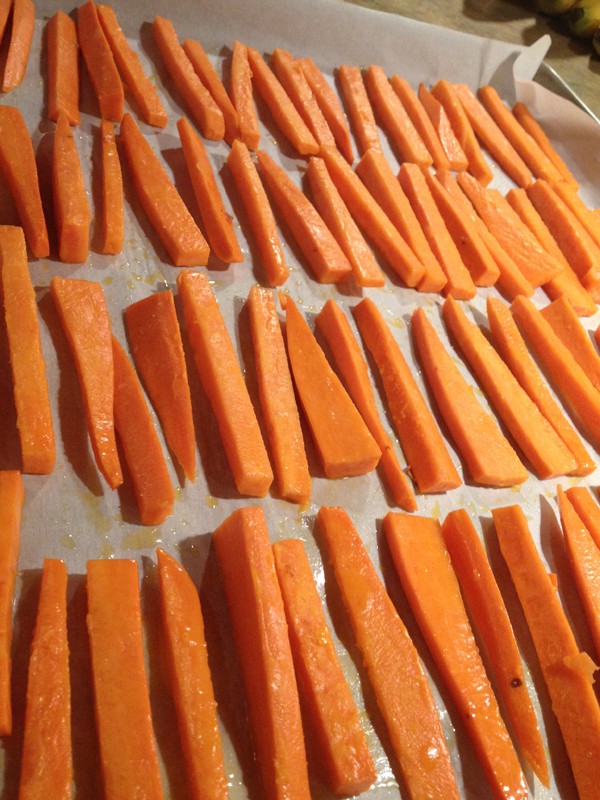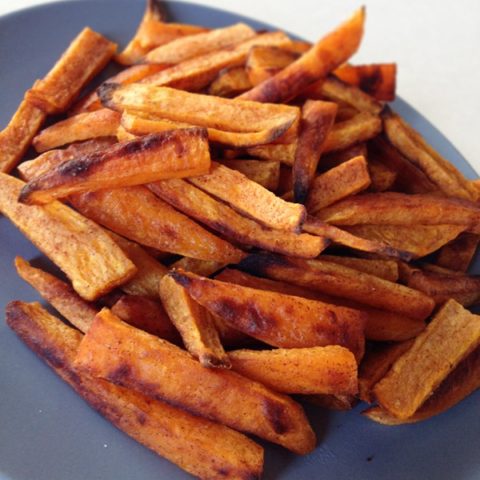 Sweet Potato Fries
Ingredients
3 Tbsp Coconut Oil
1 Large Sweet Potato
Sea Salt, to taste
Instructions
Preheat the oven to 425°F.
Line a large rimmed baking sheet with parchment paper
Place the coconut oil in a large bowl and nuke for about 20 seconds to melt.
Peel the sweet potato and slice into equal width sticks. My cutting board has inch-marks on it, so I can make sure they're even. But I'm weird like that. Ideal stick size would be 3" long and 1/4 thick.
Dump all the sticks in the bowl with the melted coconut oil. If you're like me, you'll dirty a wooden spoon to mix it all together. Make sure all the sweet potatoes are evenly coated with the oil. You can also sprinkle in some salt now, making sure it's mixed evenly.
Dump the sweet potatoes on your prepared baking pan. Spread them out in an single layer. Don't overcrowd the pan, they won't get crispy. I like to get all OCD and line my fries up in even little rows. Don't be weird like me.
Put the baking pan in the middle rack of your oven. Bake for 20-30 minutes, flipping once if you want. After the 20-minute mark, keep an eye on them to make sure they don't burn. A few will, but I always say it's fine to lose a few for the greater good. You want the rest to be nice a crispy.
Remove from oven when they're nice and brown on the edges (not too dark).
Nutrition Information
Yield

4
Serving Size

1
Amount Per Serving
Calories

131
Total Fat

10g
Saturated Fat

8g
Trans Fat

0g
Unsaturated Fat

1g
Cholesterol

0mg
Sodium

162mg
Carbohydrates

9g
Fiber

1g
Sugar

3g
Protein

1g
Nutrition is calculated by a third party and may not be 100% accurate