You know what I love about summer? I mean besides the warm weather, camping, fun with my kids, and summer storms. I love the farmer's market. We have a local farm that has a great CSA and we go every week and get delicious stuff. This week I got some of the best Honeycrisp apples I've ever had. Pumpkins are finally available, the peppers are overflowing, and the carrots are getting huge! Seriously, check out my 6-year-old and this carrot that he claimed as his own and refuses to let anyone eat. And look at the beets and onions behind him! It would take me a week to use one whole onion!
So I've been getting lots of carrots, onions, and peppers lately, and have been using them mostly in eggs. My gosh, we eat so many eggs in this house. The five of us consume a dozen eggs for breakfast (about half whites, half whole eggs), so I try not to make eggs everyday, but it's just the simplest breakfast when I'm trying to get two kids out the door for school. School days are my favorite days. Two kids out of the house means nobody to antagonize the baby who is almost an angel when she's the only kid at home. But she does ask for food all day long which drives me a little batty, because that's also the first thing I hear when the big kids come home from school and the only thing I hear the rest of the day.
I realized recently that when I skip a day at the gym, it affects my entire day. I confessed this fact to one of the owners at my CrossFit box and said I would never skip again because I hated the way I felt when I did, even if the workout looked like it would be too hard or challenging. I skipped yesterday and holy crap, I was in a funk all day. Could have been due to the start of my Whole30, but I'm thinking it was the the lack of physical activity. Seriously, the difference in my mood on gym days versus no-gym days is ridiculous. My poor husband, I don't know how he puts up with this roller coaster.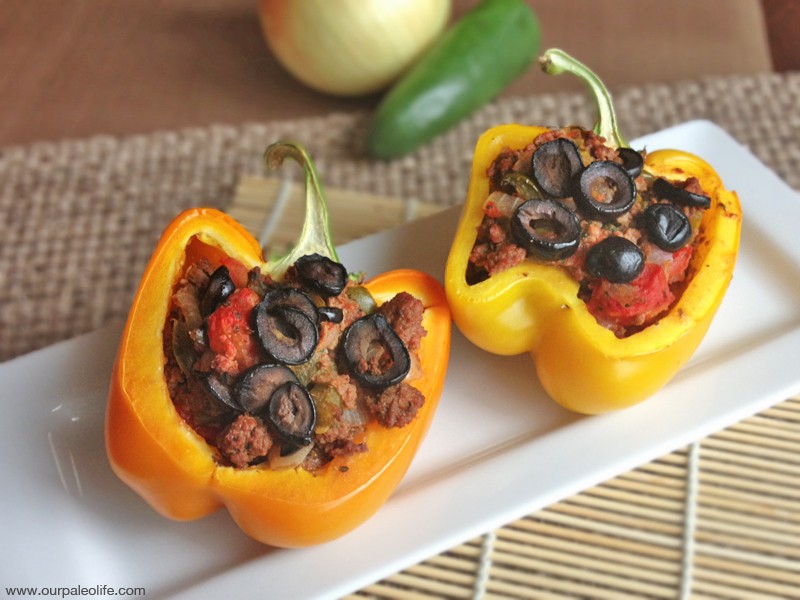 So anyway, back to peppers, I made stuffed peppers. Yay! Pre-paleo, I always stuffed them with some rice, but seeing as how rice is a no-go in the land of paleo, there's no rice in these little beauties. I love being able to eat real food without fillers like rice and bread. I am so much more satisfied and don't get that terrible feeling in my gut anymore. You know what I'm talking about. Best thing about these peppers, I have a great way to use up all those beautiful farmer's market peppers AND my kids asked for seconds, even though they were a bit too spicy with the jalapenos in them. Next time, I will for sure use the green chiles because it was almost a little too spicy for me as well. But if you're a spicy person, jalapenos it is!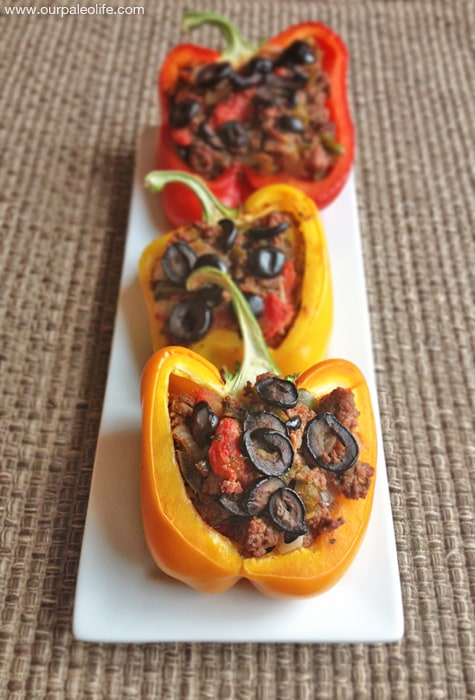 Paleo Stuffed Peppers
Ingredients
1 medium Yellow Onion
2 cloves Garlic, minced
1 tsp Olive Oil + more for baking dish
1 lb Grass-Fed Ground Beef or Bison
1 Tbsp Ground Cumin
2 tsp Dried Parsley
½ tsp Smoked Paprika
½ tsp Sea Salt
Fresh Ground Black Pepper, to taste
1 (14.5 oz) can Diced Tomatoes
1 (4 oz) can Diced Jalapenos (for a spicy dish) or Mild Green Chiles (for a mild dish), drained
½ can Black Olives, drained and sliced
3 large Bell Peppers, halved and seeded
Instructions
Preheat the oven to 350F.
Lightly oil a 9x13 glass baking dish with olive oil. Set aside.
In a large skillet, heat the 1 tsp olive oil over medium heat. Add the onions and garlic to the skillet and saute until the onions are translucent.
Add the ground bison/beef, cumin, parsley, paprika, salt, and pepper to the skillet and cook until the bison/beef is completely browned, breaking up with the back of a wooden spoon.
Stir in the can of tomatoes, drained jalapenos/chiles, and ½ of the olives until evenly combined. Remove from heat.
Using a large cookie scoop (easiest) or a spoon, scoop the meat mixture into the hollowed out pepper halves. sprinkle the remaining half of black olives on top of the stuffed peppers.
Place the peppers, cut side up, in the oiled baking dish. Bake in the preheated oven for 30 minutes.
Serve hot with a side of guacamole (optional).
Food and Tools Used In This Recipe
Click the images below to purchase any of these items.
*Affiliate links are included in this post. I receive a small commission from any purchase made by clicking these links. The commissions paid help to cover the costs associated with maintaining this website. Thank you!*