Want to mix up dinner a little? These Paleo stuffed Peppers are full of flavor and they're easy to make too. This Paleo recipe is a winner for the entire family.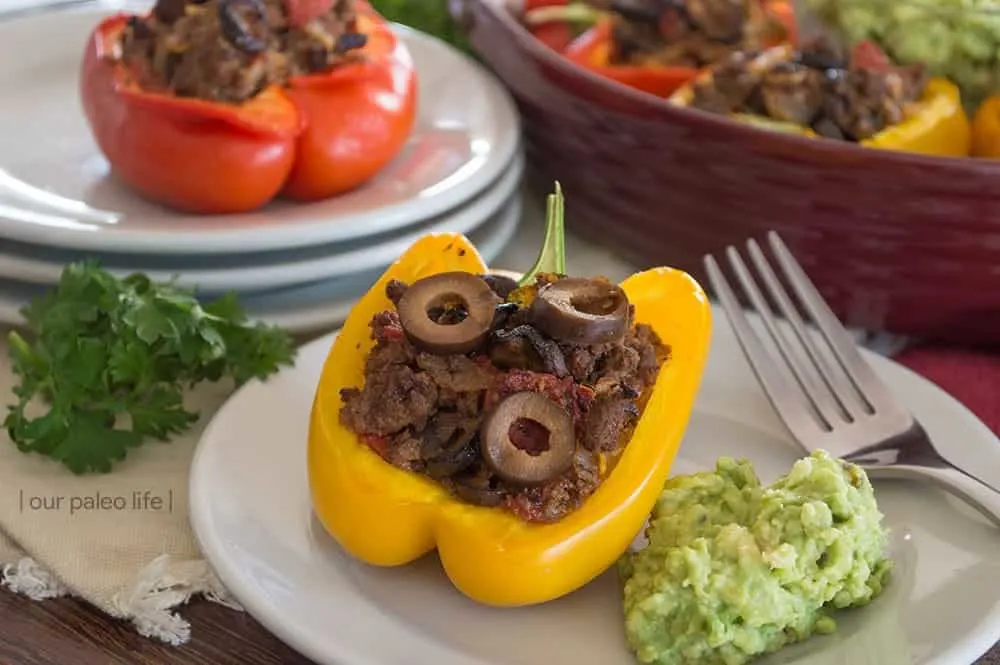 Stuffed Peppers Recipe
Stuffed peppers are one of those dinners that's so easy to make but looks elegant enough for dinner guests. Back in our pre-paleo days, I would load up on rice and cheese in our peppers, and all that really did was add bulk, not nutrients and real substance. The beauty of making grain free, dairy-free paleo stuff peppers is that we're actually getting more nutrients in the same amount of food.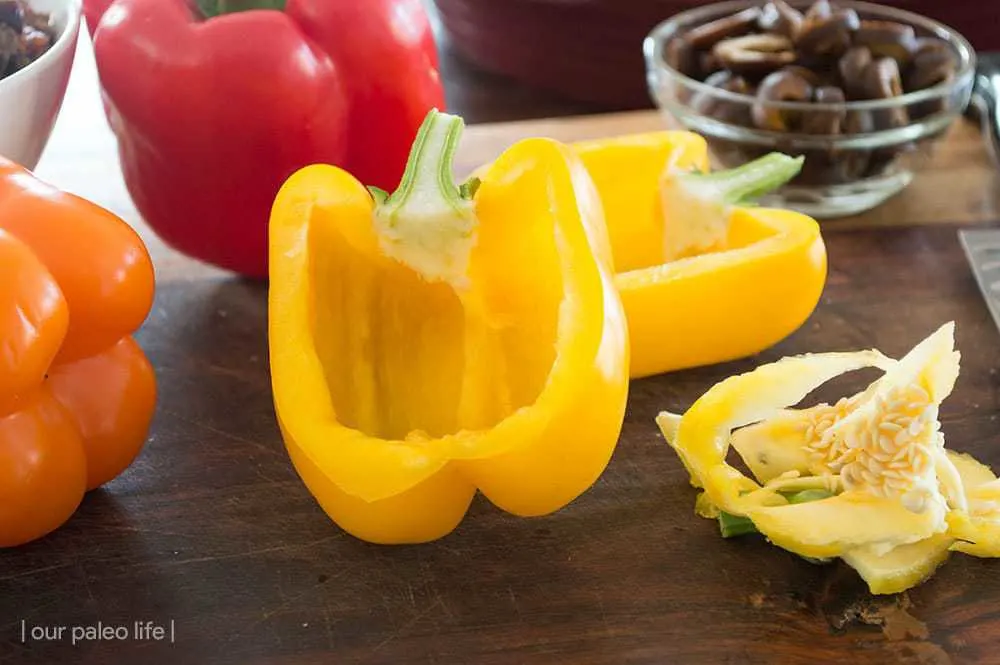 These paleo friendly stuffed pepper recipe makes enough for your family, which usually means plenty for dinner and leftovers. If your peppers are on the smaller side, you will need more peppers or you'll have extra filling leftover. Which is fine, you can eat the filling on its own and it's just as good (just less pepper taste).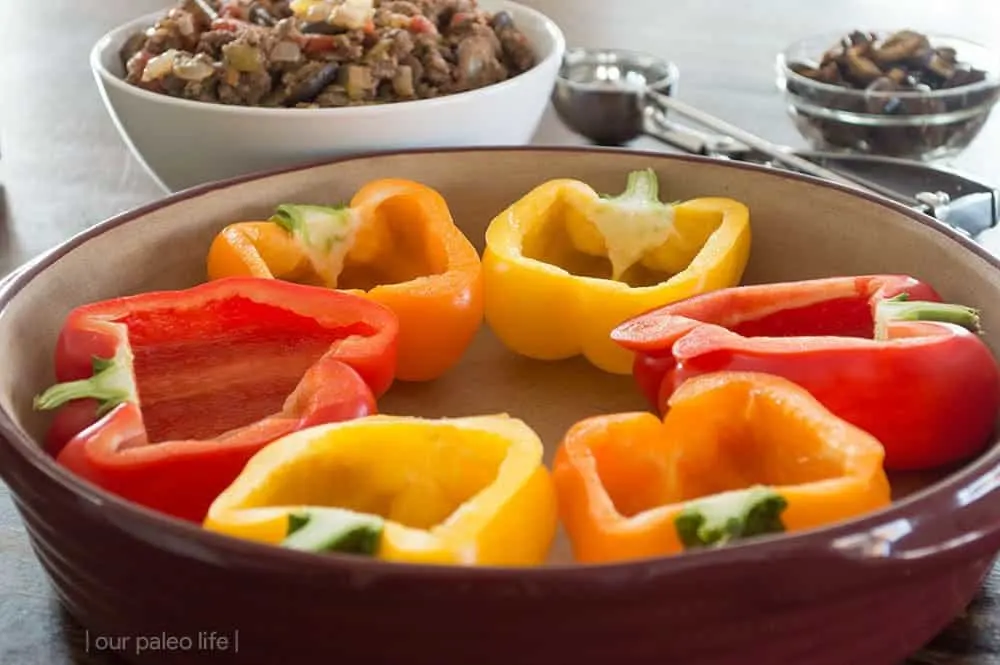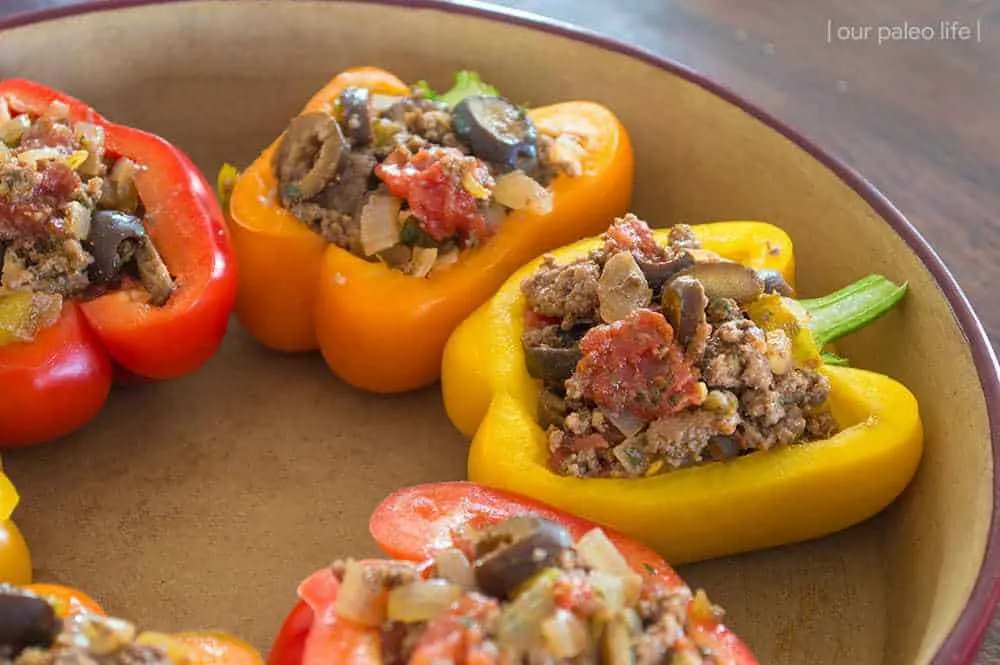 We love these served with a big scoop of guacamole and a drizzle of ranch dressing. And if you're in a pinch and have some avocados but no other guac ingredients, just dice up the avocados and sprinkle them on top.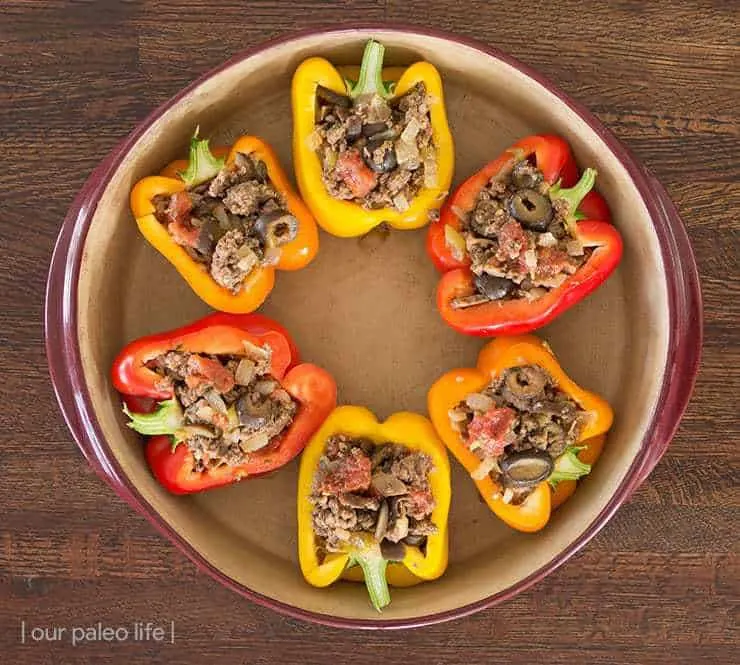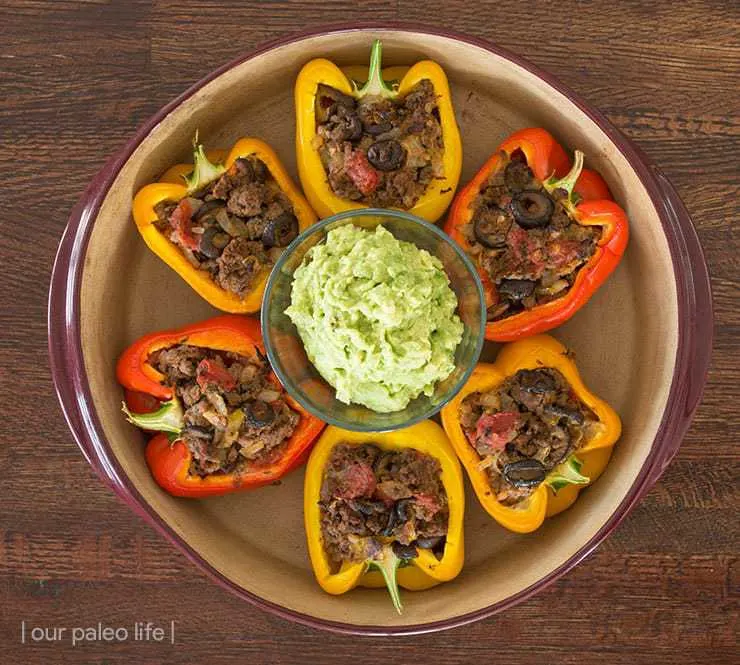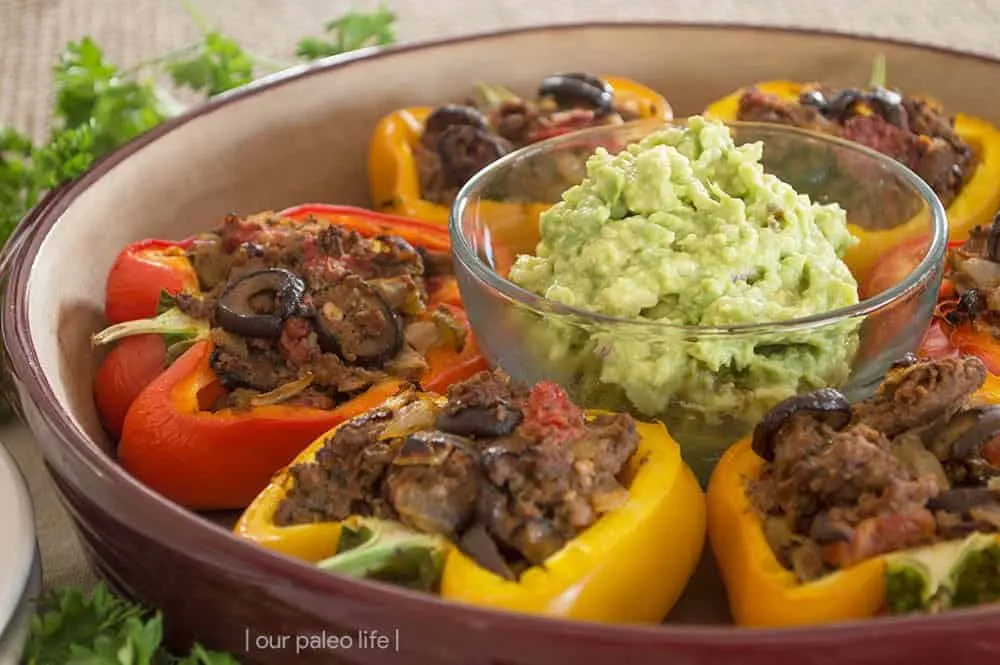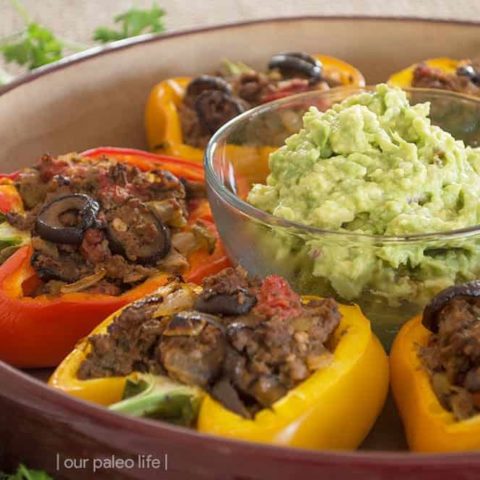 Paleo Stuffed Peppers
Ingredients
1 medium Yellow Onion
2 cloves Garlic, minced
1 tsp Avocado Oil or Olive Oil, + more for baking dish
1 lb Grass-Fed Ground Beef or Bison
1 Tbsp Ground Cumin
2 tsp Dried Parsley
1/2 tsp Smoked Paprika
1/2 tsp Salt
Ground Black Pepper, to taste
1 (14.5 oz) can Diced Tomatoes
1 (4 oz) can Diced Jalapenos or Mild Green Peppers Chiles, drained
1/2 can Black Olives, drained and sliced
3 large Bell Peppers, halved and seeded
Instructions
Preheat the oven to 350°F.
Lightly oil a 9x13 glass baking dish with oil. Set aside.
In a large skillet, heat the 1 tsp olive oil over medium heat. Add the onions and garlic minced to the skillet and saute until the onions are translucent.
Add the ground bison/beef, cumin, parsley, paprika, salt, and pepper to the skillet and cook until the bison/beef is completely browned, breaking up with the back of a wooden spoon.
Stir in the can of tomatoes, drained jalapenos/chiles, and 1/2 of the olives until evenly combined. Remove from heat.
Using a large cookie scoop (easiest) or a spoon, scoop the meat mixture into the hollowed out pepper halves. sprinkle the remaining half of black olives on top of the stuffed peppers.
Place the peppers, cut side up, in the oiled baking dish. Bake in the preheated oven for 30 minutes.
Serve hot with a side of guacamole and ranch dressing (optional).
Nutrition Information
Yield

6
Serving Size

1 pepper
Amount Per Serving
Calories

284
Total Fat

21g
Saturated Fat

6g
Unsaturated Fat

0g
Cholesterol

53mg
Sodium

757mg
Carbohydrates

8g
Fiber

3g
Sugar

4g
Protein

14g
Nutrition is calculated by a third party and may not be 100% accurate