Last Updated on July 8, 2020
I had always just assumed that spaghetti squash was the only real noodle replacement for wheat noodles. I tried it once and wasn't a huge fan, maybe I didn't cook it enough, I don't know. But I stumbled upon the idea of zucchini as noodles. What?! Now, I'm not awesome so I don't have a julienne slicer, and I imagine that would make this noodle process a million times easier (that's just an estimate), but holy cow, zucchini noodles are the best. Super close to how I cook the wheat noodles. So now I can eat spaghetti (with my own Paleo Spaghetti Sauce, of course).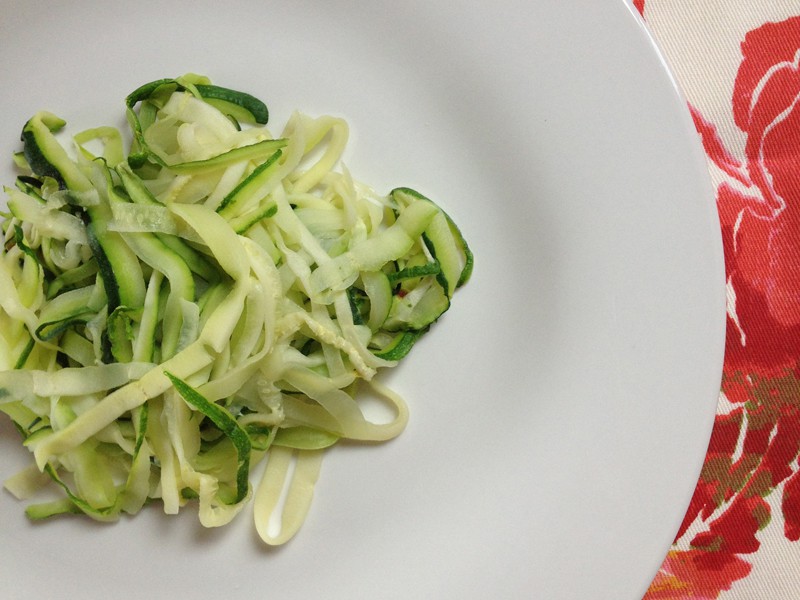 I've never really been a fan of "al dente" pasta, I like mine a little softer, so I think the zucchini is perfect. I overcook mine just a bit, but you could certainly cook it less so it has a bit more bite. We serve this with the Paleo Bang Bang Shrimp, and it's really good, the noodles get all covered up with the sauce and it's perfect!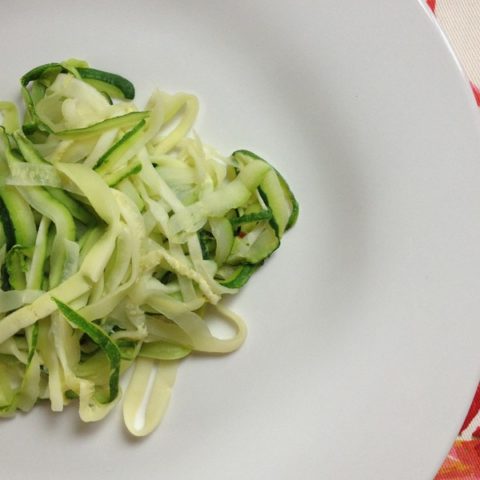 Zucchini Noodles
Instructions
Take a julienne peeler and shred the zucchini into thin strips. If you don't have a julienne peeler, use a regular vegetable peeler to get long, wide strips and slice into thin strips with a sharp knife.
Place the "noodles" in a microwave-safe dish with a lid. I have a steamer, but you could just cover the top with plastic wrap as well. No need to add water.
Microwave on High for 2-4 minute s(longer for softer noodles).
Eat plain or serve with anything you would normally serve with noodles.
Nutrition Information
Yield

4
Serving Size

1
Amount Per Serving
Calories

15
Total Fat

0g
Saturated Fat

0g
Trans Fat

0g
Unsaturated Fat

0g
Cholesterol

0mg
Sodium

3mg
Carbohydrates

3g
Fiber

1g
Sugar

2g
Protein

1g