Hello, my name is Kendra and I used to hate avocados.
Ok, good, I'm glad I got that off my chest. It's kind of embarrassing, looking back and realizing I was such a baby about these fat-packed little fruits. But seriously, the only way I could eat an avocado was if it was mashed up as guacamole.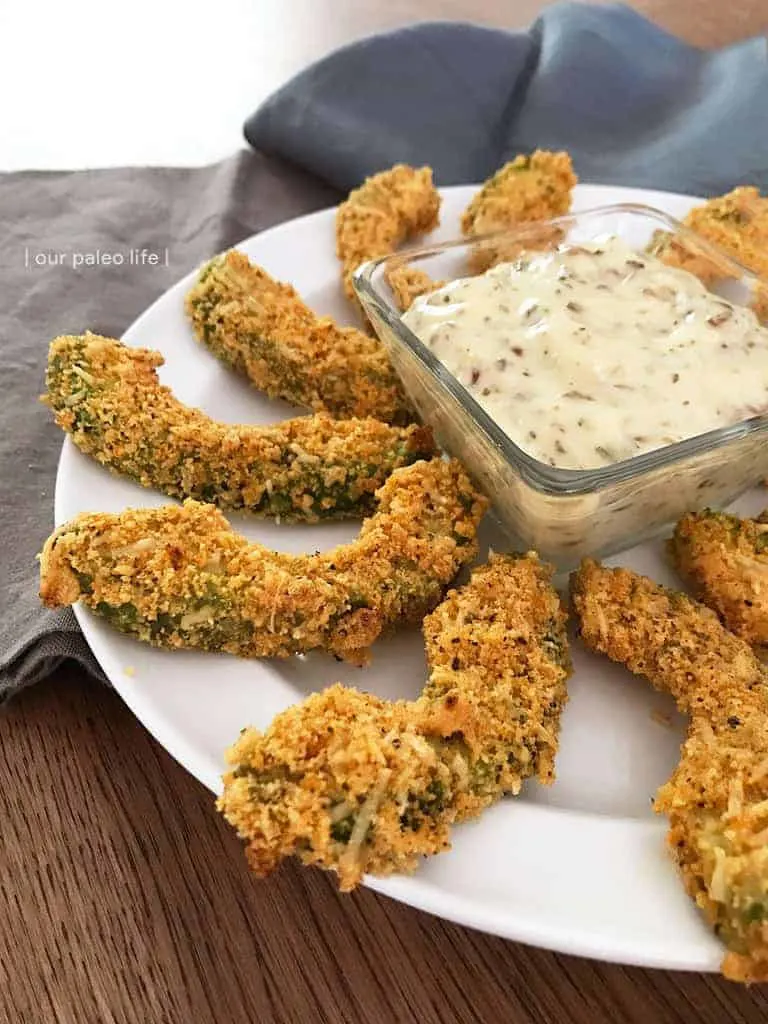 The fact that my husband could eat an avocado with a spoon and nothing else to mask the flavor would make me queasy. Fast forward and now I'm hoarding avocados, hiding them in the crisper drawer under the celery so the kids don't eat them all. I'm so proud of me.
But, as delicious as avocados are all on their own, sometimes it's fun to mix things up a bit. This year, on Rob's birthday, he requested that I make him delicious food but he didn't tell me what he wanted except that he wanted it to be a surprise. I really don't like that request because what if I make something he didn't want, or he was having a craving for something different.
Oven Baked Avocado Recipe
I decided to try something new that I hadn't made before and crossed my fingers. These Avocado Fries were perfect in my head, so I was worried they wouldn't turn out as well in real life. Turns out my worries were for nothing, because not only was the flavor and crunch spot on, Rob was super happy with his birthday food. Win win.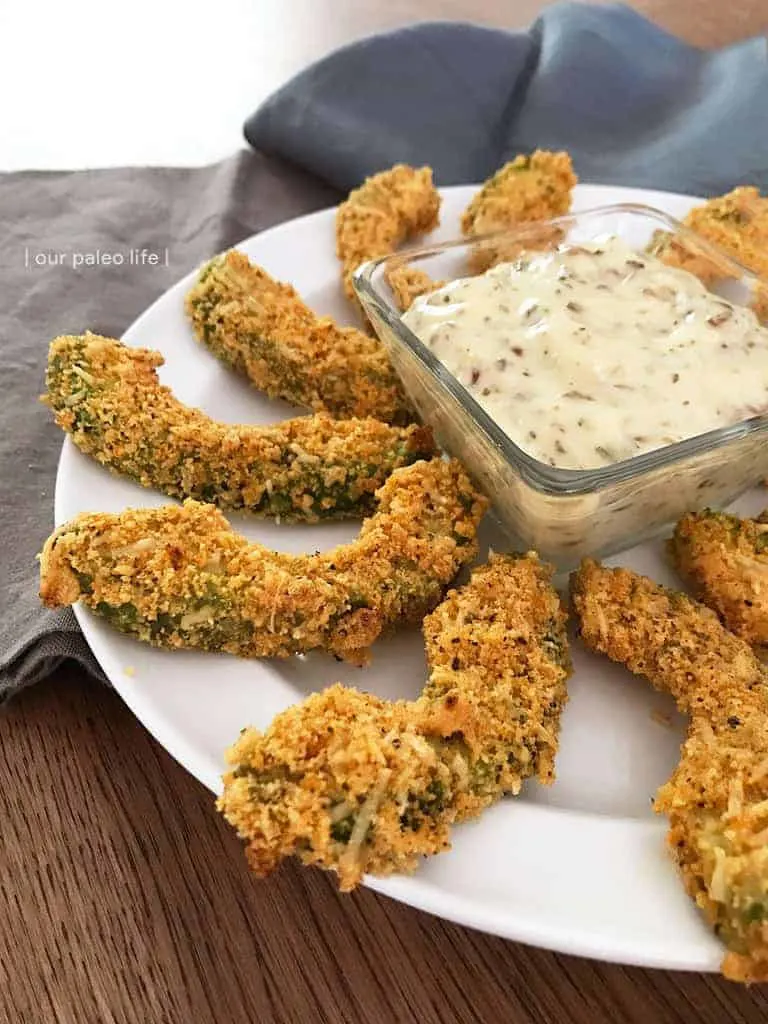 The key to getting these deliciously crunchy without grains and "real" breading is the pork rinds. You can buy pork rinds already crushed up as "panko", but I often just take plain pork rinds and crush them up myself (put them in a plastic bag and just pound away). Even my one non-pork-rind-loving kid loves anything I bread in pork panko (like these Coconut Shrimp and Onion Rings).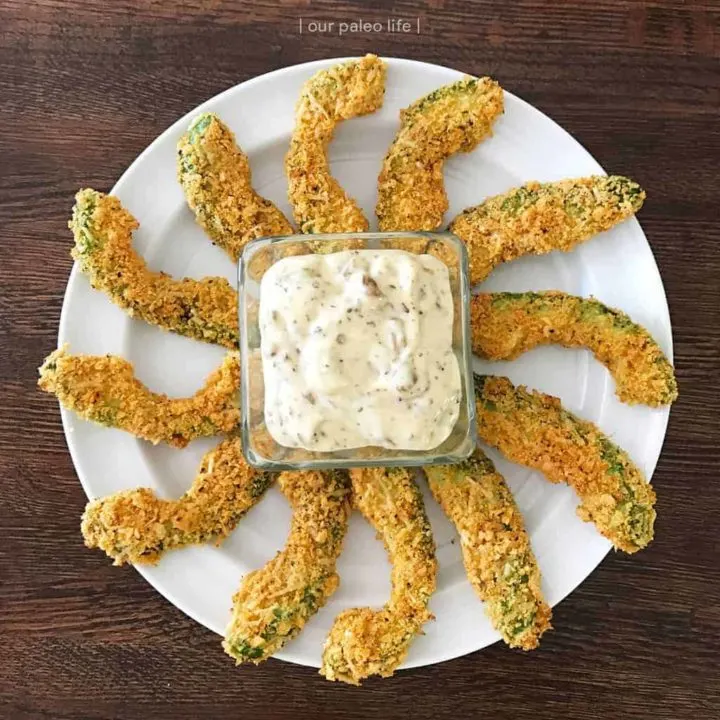 Avocado Fries w/ Sun-dried Tomato Aioli
Ingredients
Avocado Fries
2 Avocados, firm & slightly under-ripe
1 large Egg
1/4 cup Almond Flour
1/2 cup Pork Panko, finely ground pork rinds
1/2 tsp Dried Basil
1/4 tsp Salt
1/4 tsp Ground Black Pepper
1/4 tsp Smoked Paprika
1/8 tsp Chipotle Pepper Powder
1/8 tsp Onion Powder
1/8 tsp Garlic Powder
1 spray Avocado Oil Spray
Sun-Dried Tomato Aioli
1/2 cup Paleo Lime Mayo, or Chosen Foods Avocado Mayo
1 Tbsp Lime Juice
1 Tbsp Sun-Dried Tomatoes, in oil, finely chopped
1 tsp Oil from Sun-Dried Tomatoes
1 tsp Dried Basil, or 1 Tbsp fresh chopped basil
1/8-1/4 tsp Cayenne Pepper, optional, or more to taste
Instructions
Sun-Dried Tomato Aioli
Combine all of the Sun-Dried Tomato Aioli ingredients in a small bowl and mix until combined. Cover and store in the fridge for at least an hour before serving.
Avocado Fries
Line a rimmed baking sheet with foil (not required, but this helps with cleanup) and place an uncoated wire rack in the baking sheet. Set aside. Preheat the oven to 415°F.
Cut the avocados in half, remove the pit, and gently scoop the entire half out of the skin to keep the avo half intact. Place on a cutting board, flat-side down, and cut into slices about 1/2" thick. Repeat with both avocados and set aside.
Add the egg to a wide, shallow bowl. Whisk until the white and yolk are completely blended.
Add the almond flour, pork panko, and all spices to another wide, shallow bowl and stir until combined.
Take one avocado slice and dredge in the flour/panko mixture (lightly coating both sides), then coat completely in the whisked egg, then back in the flour/panko mixture again.
Lay the breaded avocado slices on the rack in the baking sheet. Spray them all generously with the avocado oil spray, turn them over and spray the other sides as well. Bake in the preheated oven for 14-16 minutes, or until crispy and golden.
Remove from oven and serve immediately with the Sun-Dried Tomato Aioli.
Nutrition Information
Yield

4
Serving Size

1/2 avocado
Amount Per Serving
Calories

563
Total Fat

46g
Saturated Fat

8g
Trans Fat

0g
Unsaturated Fat

34g
Cholesterol

94mg
Sodium

305mg
Carbohydrates

24g
Fiber

13g
Sugar

3g
Protein

21g