Last Updated on July 24, 2020
Meatball Recipe
I'm willing to bet that for many of us, spaghetti was a staple meal in our youth. It's fast, easy, and filling so it's usually a go-to for busy moms who just want to get food on the table with little effort.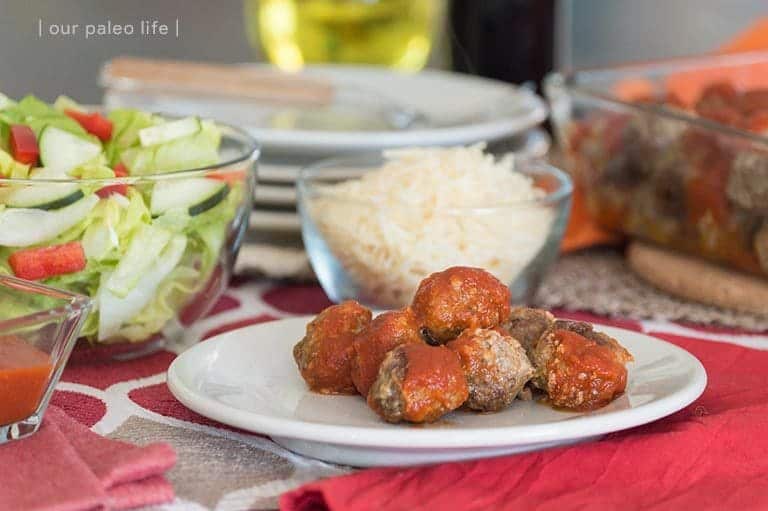 One of the roadblocks for those switching from the Standard American Diet to a clean eating lifestyle like paleo is finding simple recipes that require minimal effort and don't cost a small fortune.
As a mom who needs to feed 3 kids every night I am well aware of this problem.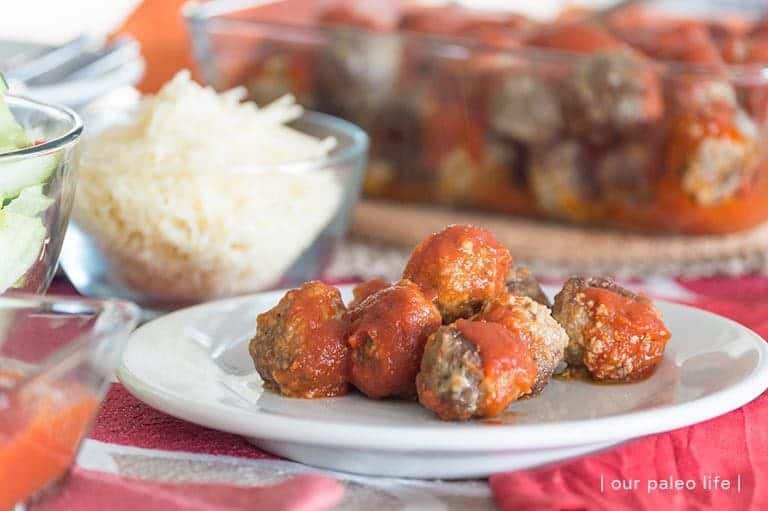 Ready-Made Freezer Meatballs
I love to have ready-made food in the freezer so I can just throw it in the oven to reheat and eat. My favorite thing, aside from these meatballs, to make in bulk for freezing is the chicken nuggets that I use in our Takeout Orange Chicken and Sweet & Sour Chicken. If I don't feel like making the sauce to go with it, we eat the nuggets with Honey Mustard Dip and a quick side salad. Done!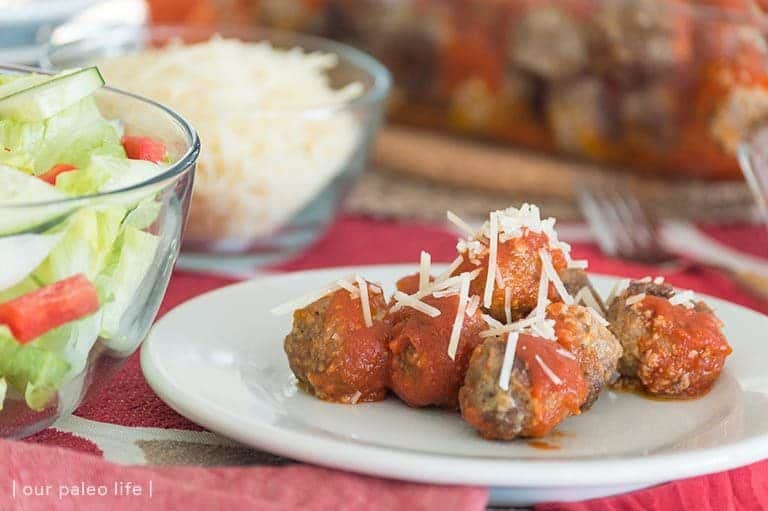 These Italian meatballs freeze perfectly and reheat quickly so you can be eating in no time. I like to make a triple batch so I always have some on hand. If you don't have time to make a batch of homemade Paleo Spaghetti Sauce, our favorite fallback is Thrive Market's Roasted Garlic Tomato Sauce.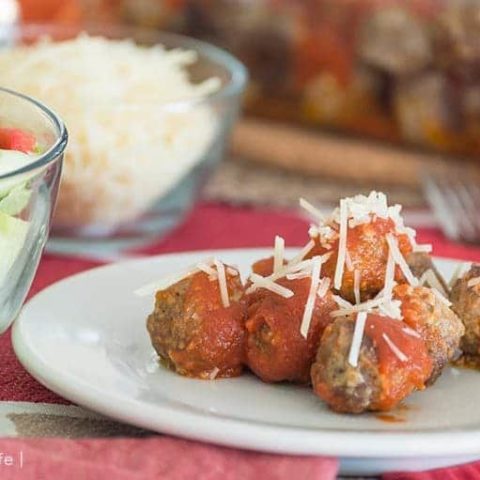 Italian Meatballs
Ingredients
1 lb Ground Beef
1 lb Ground Pork Sausage, we use Jimmy Dean
2 large Eggs
1 Tbsp + 1 tsp Dried Minced Onions
1/3 cup Pork Panko, finely ground pork rinds
3 cloves Garlic, minced
1-1/2 tsp Salt
1 tsp Ground Black Pepper
1 tsp Italian Seasoning
3 Tbsp Grated Parmesan Cheese, fresh, not shelf stable (optional, omit for dairy-free)
1-2 cups Paleo Spaghetti Sauce
Fresh Mozzarella, optional, omit for dairy-free
Instructions
Preheat oven to 425°F. Line a rimmed baking sheet with foil and set aside.
Combine all ingredients, except spaghetti sauce and mozzarella, in a large bowl. Combine (with a spoon or your hands) until completely combined and evenly mixed.
Using a small cookie scoop (approx. 1 Tbsp in volume), scoop the meatball mixture into balls and roll to smooth with your hands. Place on the prepared baking sheet, almost but not quite touching.
Bake in the preheated oven for 15-18 minutes, or until cooked through (if you press down on them, they will feel firm, not squishy).
Remove from oven and transfer meatballs (with a slotted spoon) to an 8x8 baking dish. Cover with spaghetti sauce and add mozzarella on top (if using). Put back in the oven and bake, uncovered, until sauce is heated through and cheese is melted and slightly browned, about 5 minutes.
Serve hot with a side salad. Leftovers can be stored in an airtight container for up to a week.
Nutrition Information
Yield

8
Amount Per Serving
Calories

361
Total Fat

28g
Saturated Fat

10g
Unsaturated Fat

0g
Cholesterol

130mg
Sodium

1063mg
Carbohydrates

3g
Sugar

1g
Protein

21g
Nutrition is calculated by a third party and may not be 100% accurate