Last Updated on July 9, 2020
This is, without a doubt, my favorite way to cook a chicken. And to be honest, I use this same method in either the oven or in the smoker (we love our Traeger). There is very minimal time and effort and the amount of flavor and food that you get from it is pretty impressive.
Favorite Chicken Recipe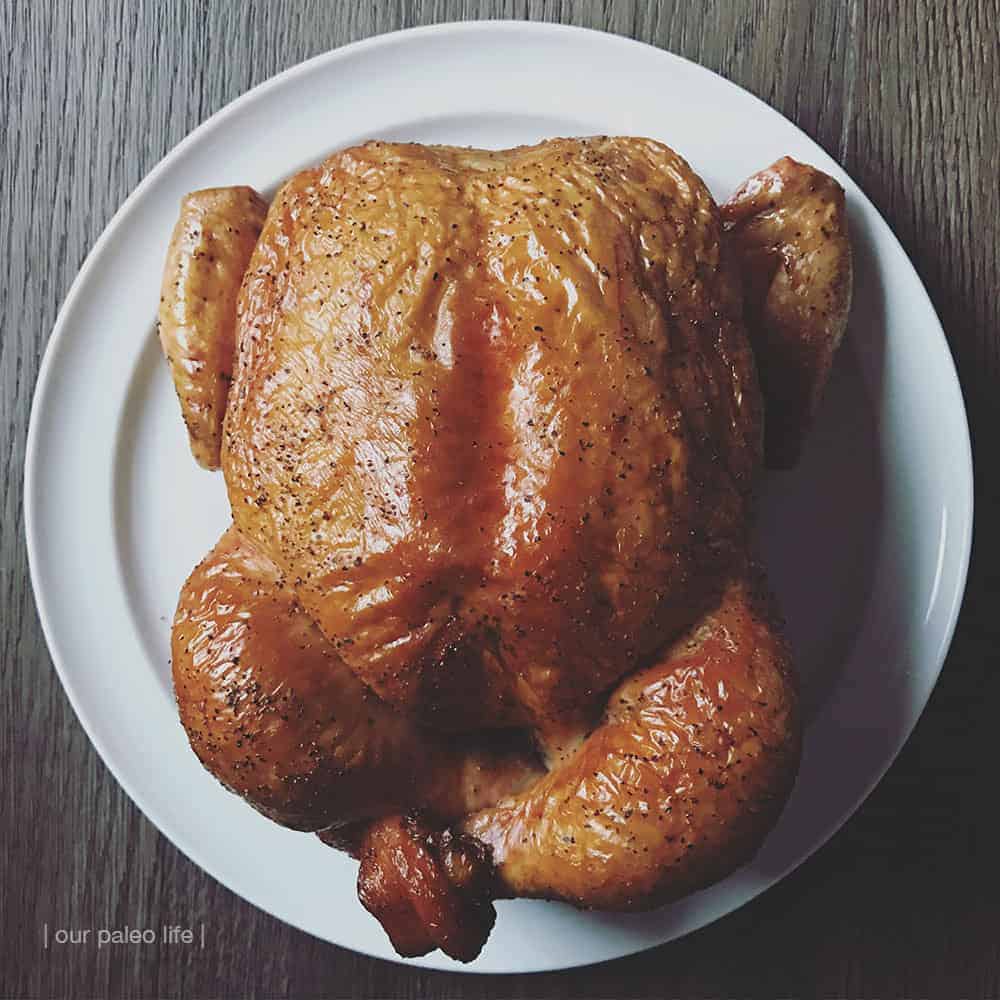 I usually make 3-4 of these roasted chickens at a time, because if you're going to put in the time to make one, you might as well make 4. We use the cooked chicken in a variety of recipes, in addition to just eating the cooked meat dipped in some of our favorite sauces.
How we use the chicken:
Our favorite chicken dips:
Making Bone Broth
So now that you've cooked 4 chickens and found all sorts of ways to use the meat, what do you do with the carcass and leftover veggies & herbs? Make chicken bone broth, of course! Using my Instant Pot method, you'll get gallons of broth from these 4 carcasses, which will keep you healthy all through flu season (it did for us, at least). Plus you can use that broth in various other recipes when you need just a splash or two on hand.
And if you're just eating this chicken straight out of the oven, be sure to save the thigh meat and legs for yourself. So good! We always give the breast meat to the kids, because they drench it in dip anyway. But the beauty with this roasted chicken is that even the white meat doesn't dry out because of the butter placed under the skin. I have no doubt that this roasted chicken will wind up being the only way you'll cook chicken from here on out.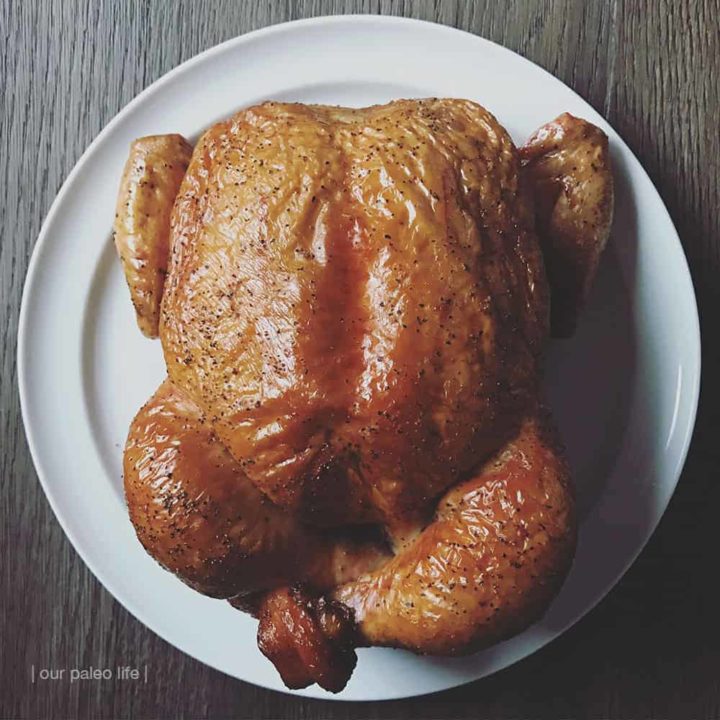 Slow Roasted Chicken
Cook Time:
2 hours
30 minutes
Total Time:
2 hours
40 minutes
Ingredients
1 4-5 lb Whole Chicken
1/4 cup Grass-Fed Butter, or ghee (for dairy-free and Whole30)
1/2 small Yellow Onion
3 cloves Garlic
3-4 sprigs Fresh Thyme, Rosemary, & Sage, a combo of all 3 is best
Salt
Ground Black Pepper
Instructions
Preheat the oven to 225°F. Line a roasting pane with foil (not required but makes cleanup much easier). Set aside.
Remove neck and packet of organs from the chicken's cavity. Set aside. Under cold running water, rinse the entire chicken, inside and out. Pat it dry, again, inside and out. Set on a small platter or plate large enough for the chicken.
Gently separate the breast meat from skin. Smush the softened butter under the skin, covering all the meat. It's easier to place the butter in there, then gently press it all around from outside the skin (slightly less messy as well).
Moderately season with salt and pepper all over the outside (top, bottom, sides, creases, everywhere). Add some to the cavity as well. Stuff the cavity with the onions, garlic, and fresh herbs.
Cover the cavity with the flap of skin, cross the legs over that, and tie them together with twine. Tuck the wings back and underneath the bird and cover the wings with foil.
Roast in the preheated oven for approximately 30 minutes per lb, or until an internal temp (tested in the thickest part of the breast, away from bone) reaches 160°F. For a 3 1/2 lb chicken, this is about 2 1/2 hours. Remove the foil from the wings in the last 30 minutes.
When the internal temperature reaches 160°F, remove the chicken from the oven and lightly cover with foil for 10 minutes before carving.
User the leftover carcass and veggies to make a homemade bone broth.
Notes
Nutrition Facts do not include veggies stuffed in the chicken (since we don't eat those, we use them to make our Bone Broth).
Nutrition Facts are based on a 5 lb chicken.
Nutrition Information
Yield

8
Amount Per Serving
Calories

343
Total Fat

26g
Saturated Fat

9g
Unsaturated Fat

0g
Cholesterol

117mg
Sodium

145mg
Protein

25g
Nutrition is calculated by a third party and may not be 100% accurate