This is the ultimate guide on what to bring and how to prepare food when you're eating Keto and going camping. We've been camping for years (backpacking, tent camping, camper camping), in fact… we host campers on our property in Colorado. We also have a truck camper rental available if you're wanting to get away from it all in your very own truck camper.
And in relation to Keto: we test Keto products via CGM and we own and operate a Keto food production company called Cardnl. The blend of being out in nature and eating low carb is a big part of our identity.
Keto Camping Food & Planning
If you're looking for camping tips and a list of stuff to bring with on a camping trip (so you don't forget anything), check out this post.
Benefits of Being Keto While Camping
When your body is adapted to utilizing ketones for its bulk of energy as opposed to sugars, you start to notice you're not as hungry (all the time) and that you don't get feel the highs and lows that come from overconsumption of carbs.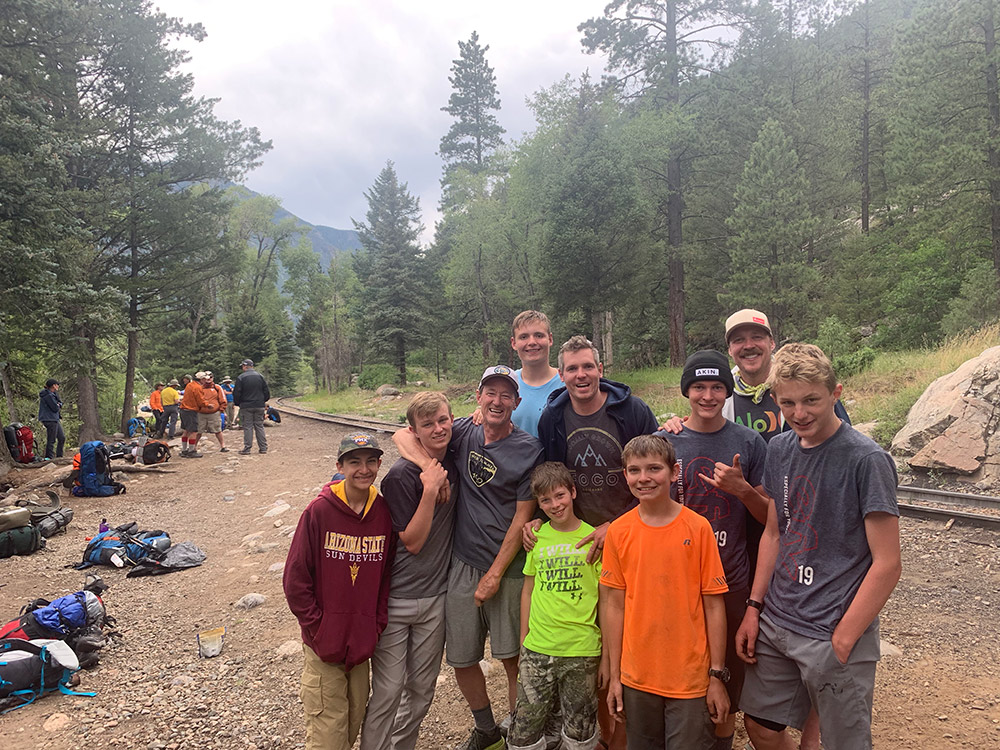 Protein is the basis of proper macronutrient balance. Fat (when fat adapted) provides you with moment to moment energy needs. And what I've found through research and personal experience testing blood sugar: my body elevates blood sugar according to need even when I'm not consuming any carbs or have been fasting for a long period of time. It's pretty amazing!
Blood sugar is important for explosive movements (like lifting heavy weights) and for grueling treks up a mountain. It's interesting seeing my blood sugar rise (when needed) but then go back to normal (baseline) when my body is done with its demands. No significant drop, no "hangry" feelings, no feelings of being tired or overworked.
With all of this in mind, a person who is fat adapted (been in Ketosis for awhile) will enjoy:
Longer lasting energy without the lows from not consuming enough calories.
Feelings of satiation (not feeling hungry all the time)
Boost of blood sugar in relation to demand (without total intervention via diet)
These 3 benefits of being Keto while camping are enough to make your camping adventures more enjoyable.
Exceptions to the Rule (un-Keto)
When you've tested and retested activities, foods, stress levels, and surroundings and how all of these elements impact blood sugar you come to learn a few things that might not make total sense at first thought.
One disclaimer about Keto camping: I would never recommend "being Keto" on a camping trip if you just started, that's a terrible idea. You will not enjoy the trip. Give yourself at least 3 months of managed ketosis prior to something as extreme as backpacking in the Colorado mountains (for example).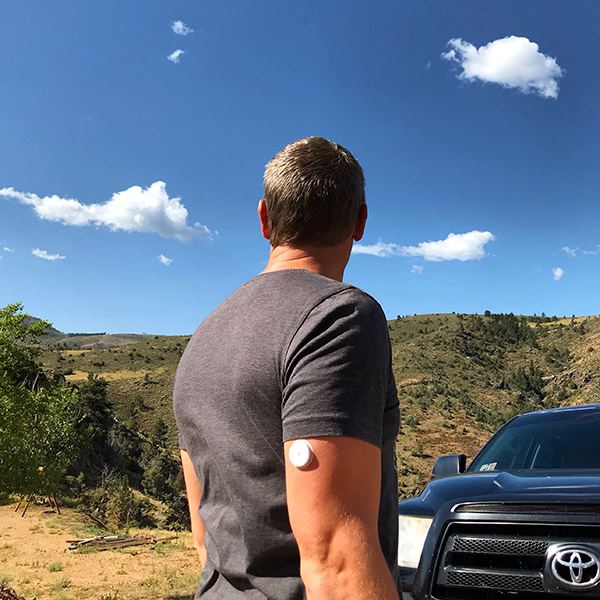 If you're fat adapted (have been in Ketosis for awhile) you have more metabolic flexibility than you think. Your body will be producing glucose as needed (even if you're not consuming many carbs) – I've tested this over and over again, results are always the same. When my body needs glucose (even when fasted for an extended period) it produces it.
With this all in mind, and referring to extreme energy output (like backpacking at 11,000ft) I highly recommend a couple of non Keto-conventional options, like honey (my favorite). I've got a blog post on increasing energy on the Keto diet, check it out.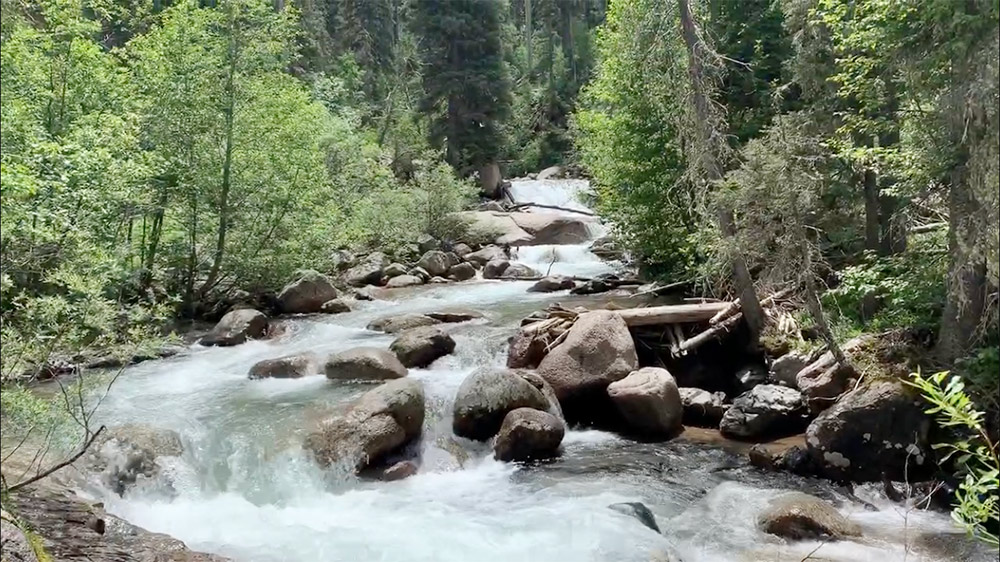 I will refer to honey in this post (because I strongly believe your body will utilize it for your benefit). If you want to avoid any and all carbs, just disregard. 😉
Keto Backpacking Meals & Food
There are pros and cons to the actual KETO APPROVED food when camping. If you're backpacking, most of the freeze dried (lightweight) pouch options are very high in carbs and/or sugars. While these are a great option for weight, they're too high in carbs. That's the con… the pro is that you just don't need as much food. Let's review some great options for Keto Camping Food.
Electrolytes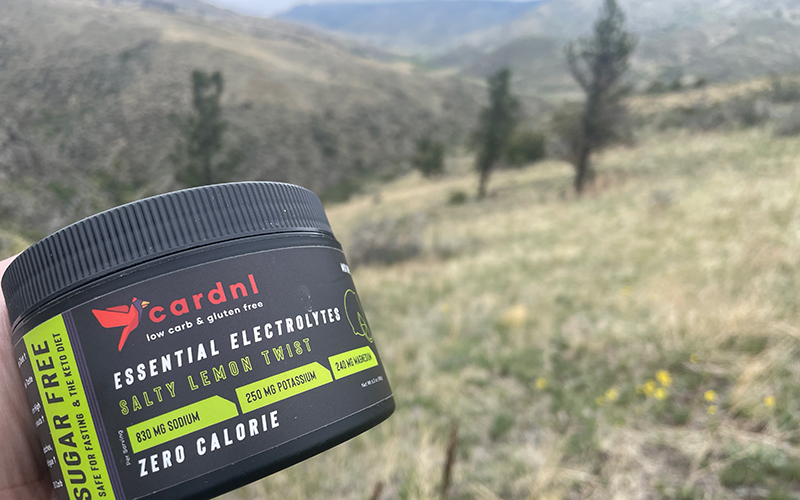 By far the most important item to bring with you as you head out in to the wilderness. Without proper electrolyte balance you may suffer headaches, fatigue, and will basically just have an all-around terrible time. Being dehydrated is no fun and worse than that… could be deadly. To remedy this, consider purchasing our number 1 best selling product: Essential Electrolytes from Cardnl. Great taste and an actual dose of sodium, potassium, and magnesium to keep you moving. Learn more about low electrolyte symptoms.
Beef Jerky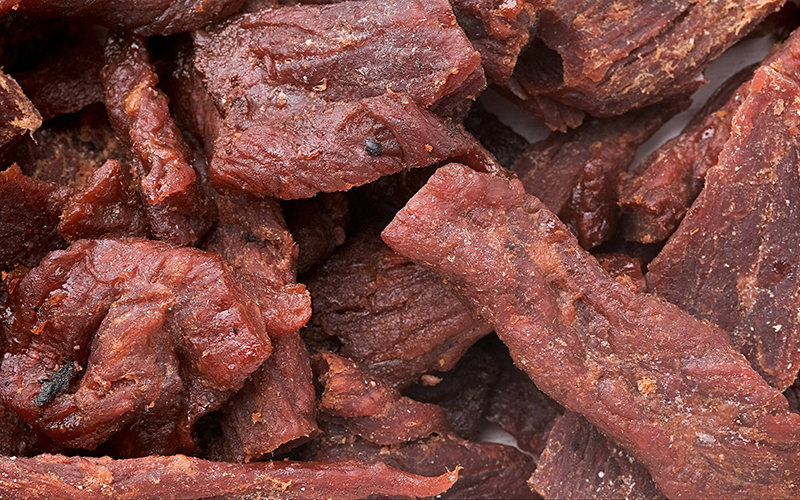 This has to be my favorite Keto Camping Food item. The benefits of beef are enormous, check out this post on beef benefits. Beef is my daily multivitamin. You'll need to be careful when it comes to added sugars with store bought beef jerky options. Check the label or make your own. We've got an amazing Paleo beef jerky recipe on this website. This beef jerky option has honey and I'm always okay with honey – especially when heading in to the backcountry in Colorado.
Nut Butter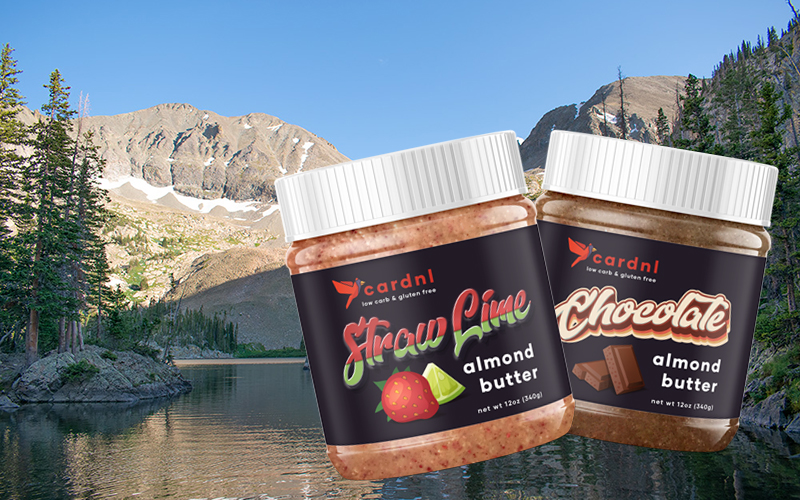 High fat content will help you balance your energy demands while on Keto. Nut butters are an extremely good idea but it is a heavier item (con) and it's ready anytime with no prep (pro). Check out the strawberry lime nut butter, it's weirdly refreshing.
Cheese Crisps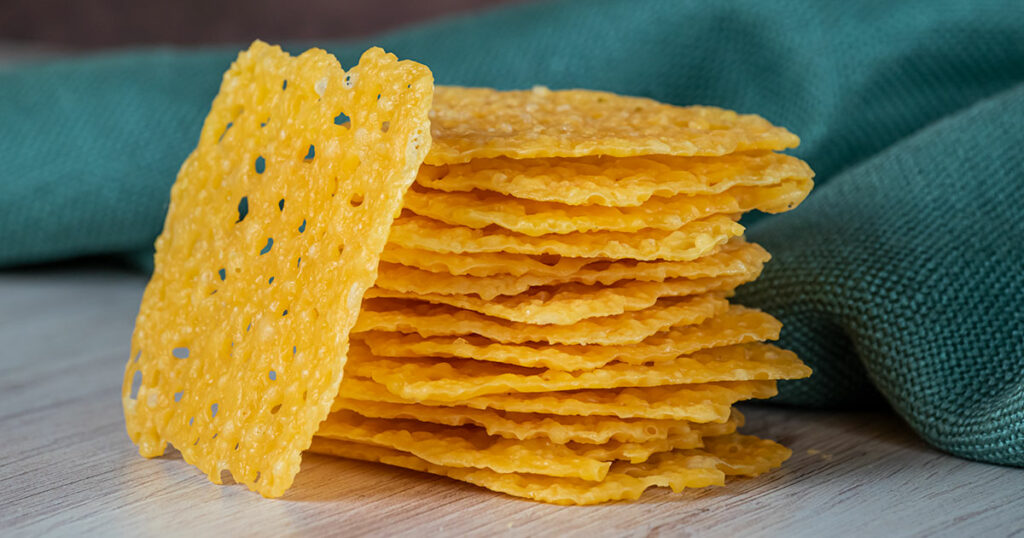 Now we're getting to one that's a little lighter. I can't stress enough how important a light backpack is when heading into the mountains. It will either break you (too heavy) or let you have all the comforts you want (just right). Cheese crisps are a great idea as they are a little less heavier by volume. We've got a recipe for Keto cheese crisps or you can find them at nearly every store in America.
Granola Mix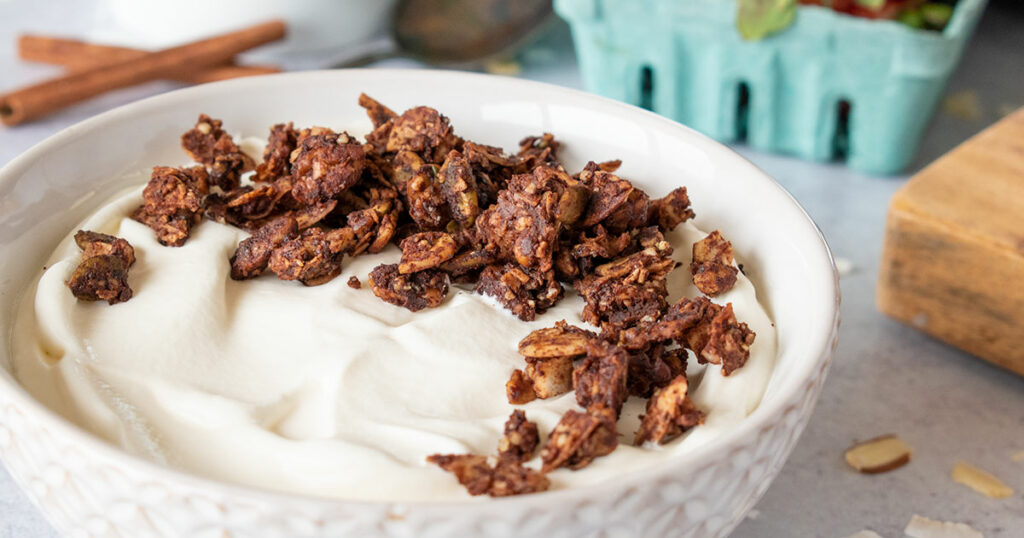 This one is best if you make it yourself. There's something amazing about a handful of a trail/granola mix that just hits the spot when you've been moving for awhile. Try this Keto granola recipe and adapt it to fit your tastes.
Hard Candy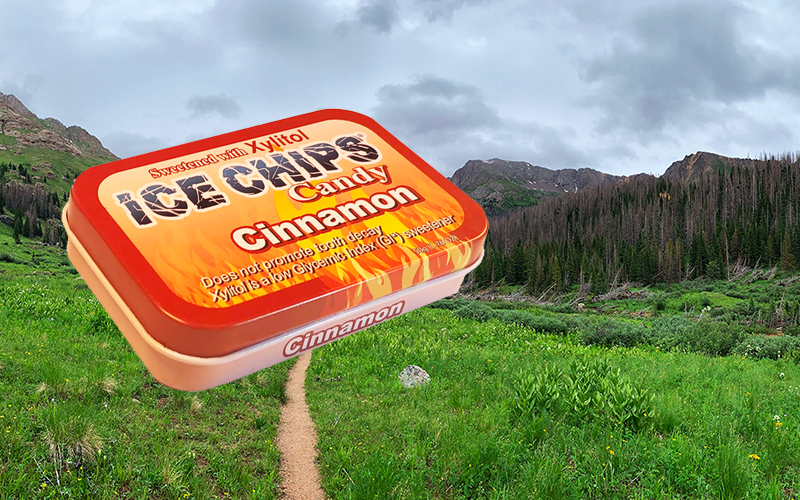 If you don't have experience backpacking you might not realize just how amazing having hard candy is. I've tried not bringing it before and … I … was … sad. My favorite keto approved hard candy are Ice Chips.
Gum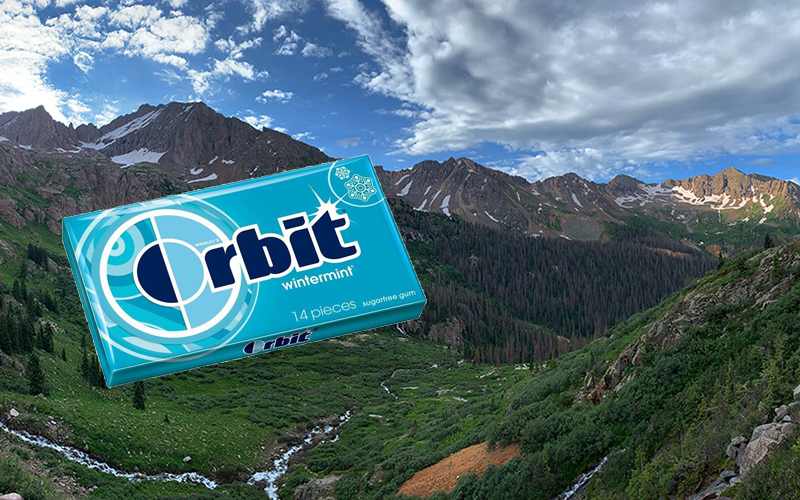 Another amazing "sweet" that makes life a little better when you don't have any modern conveniences. Pick a sugar free gum (there are a lot of options).
Honey (an exception to the rule)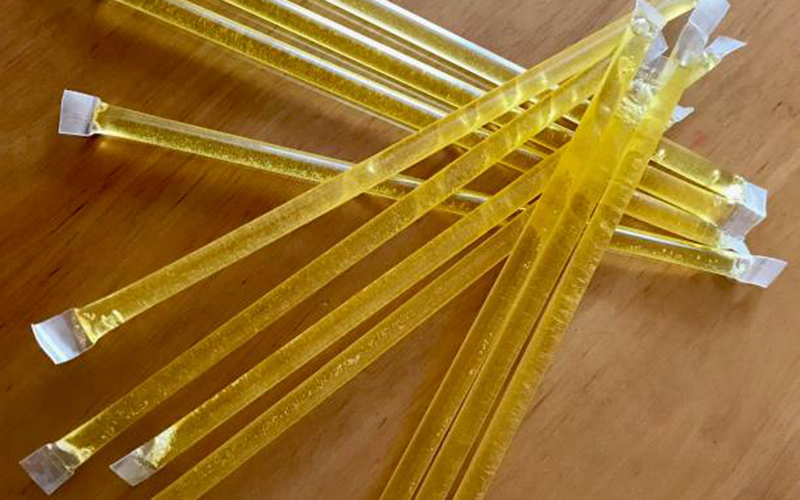 Like I mentioned earlier, you can omit this but I wouldn't. Your body will utilize this energy source, it tastes amazing, it will boost your mental state and abilities, and will (when power output is high) increase your stamina. Depending on the dose and activity level, you'll remain in Ketosis. You can take it or leave it… Imma take it.
Biltong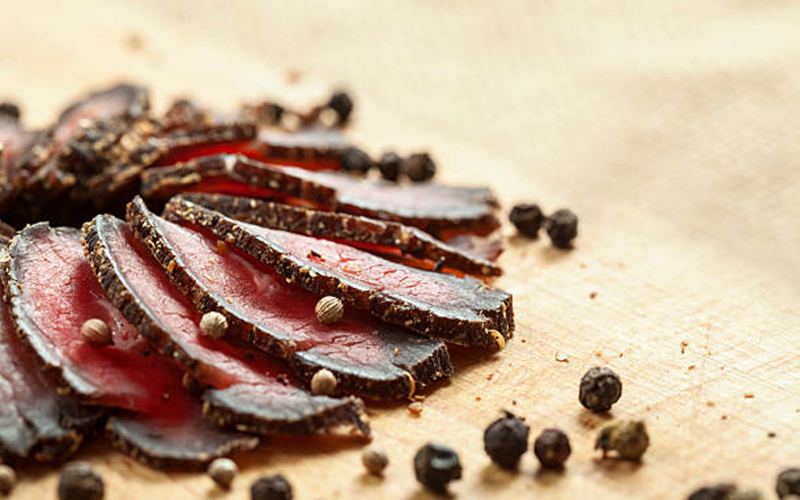 Biltong is a great, all-natural way to preserve meat. It's not too different from jerky & prosciutto because they all use a drying process to make the meat last longer. Biltong is relatively lightweight and will make a great addition to the other meats you'll want to bring along.
Hard Salami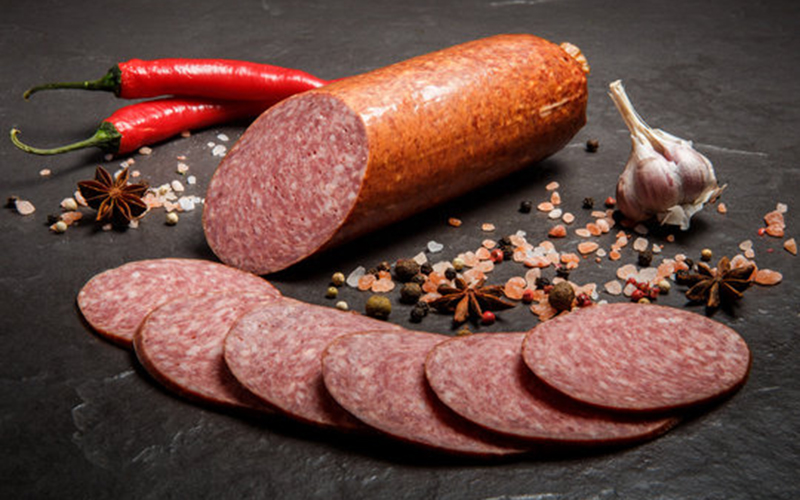 Hard salami is usually made with ground beef and pork. However, the texture is more firm and dry than regular salami. This is a great option as it needs no refrigeration for quite a while.
Tuna Pouch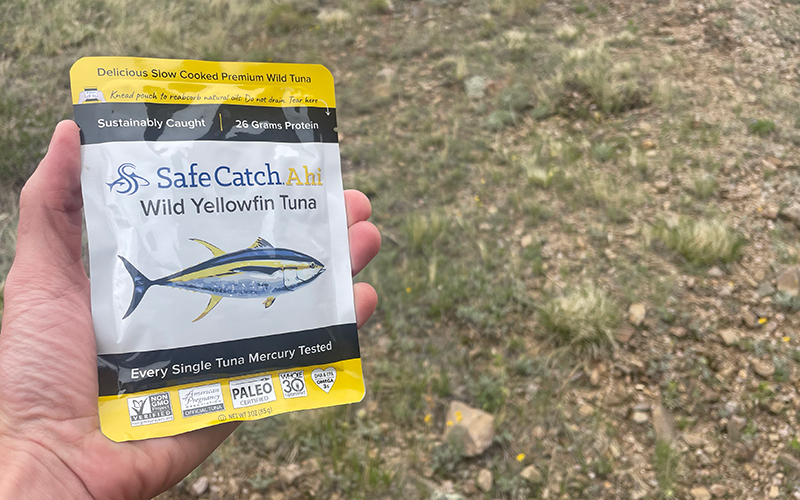 Forget the can and go with the pouch. This might be one of my favorite foods for backpacking. The pouch makes for easy clean up with no significant garbage. My favorite way to eat the tuna is with mustard, mayo, and Cardnl's savory salt blend.
Chicken Pouch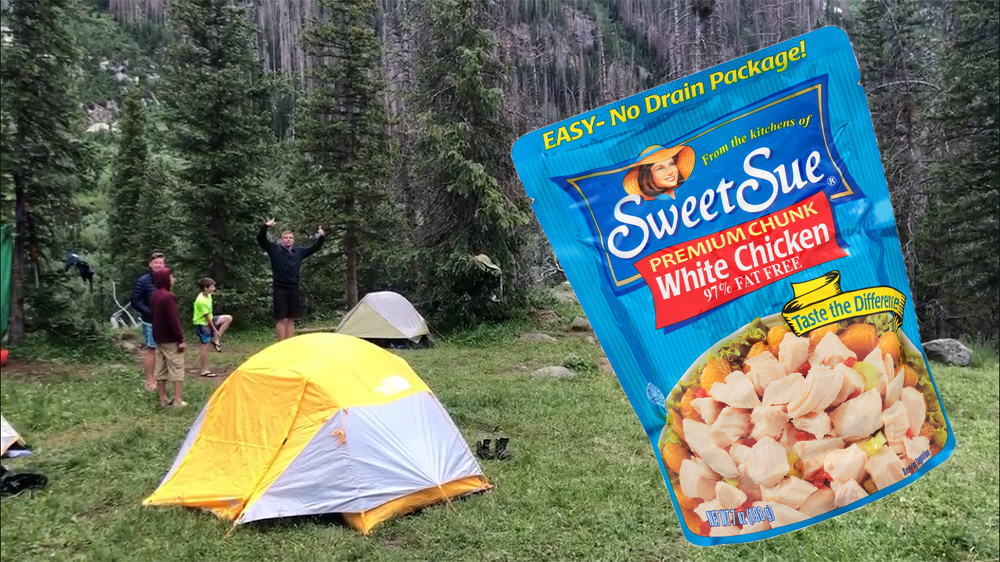 Similar to the tuna concept but ya know… it's chicken. Another great high protein and filling meal option with very little garbage left over.
Freeze Dried Berries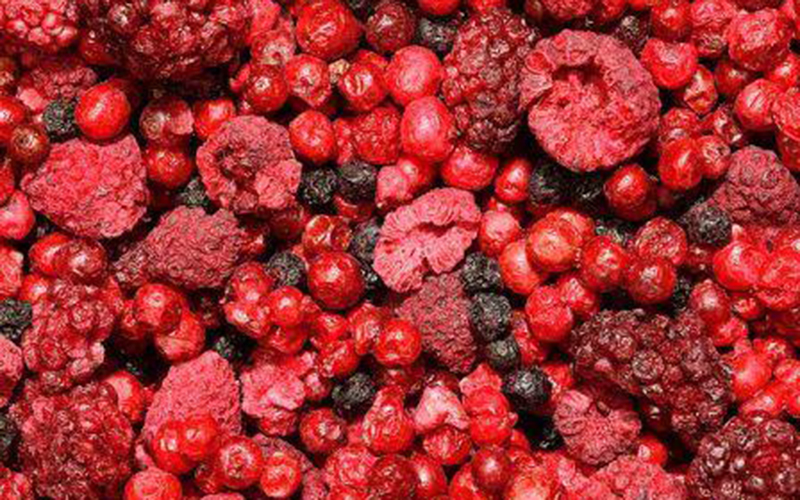 Lightweight, crunchy, and absolutely delicious. Find a couple of packs of strawberries, blackberries, blueberries, and strawberries. Mix them up in a single airtight bag and you're good to go.
Shelf Stable Packaged Cheese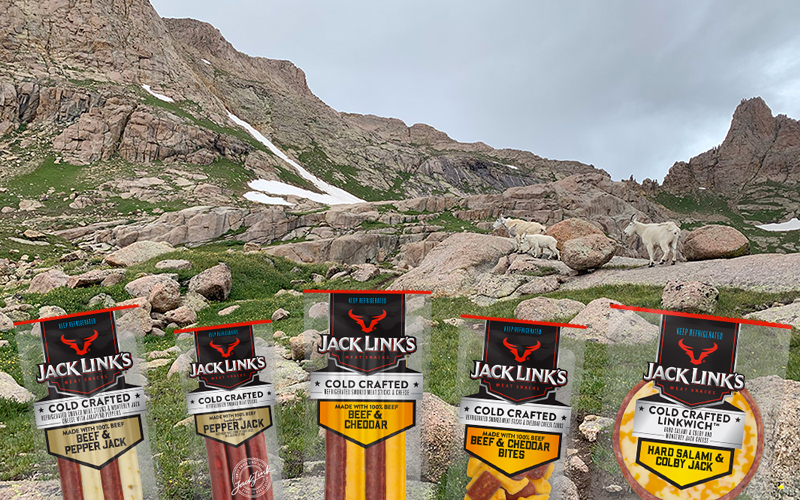 There are a lot of options currently for shelf stable, packaged cheeses. While sometimes the extra ingredients are a little suspect, it's still a nicely Keto approved snack that doesn't have a lot of excess garbage when you're done.
Dry Aged Cheese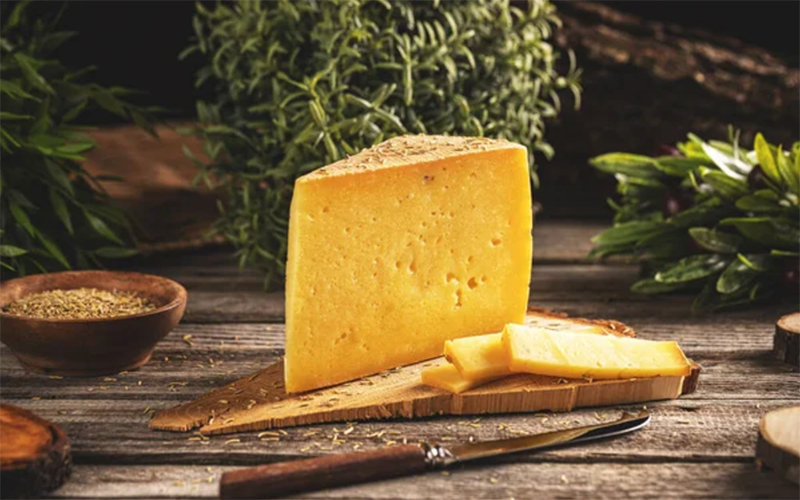 Feeling fancy? Dry aged cheeses are a great option if you want to enjoy the finer, more savory items while camping. Grana, Emmental, Padano, Pecorino, Parmigiano, Gruyere, and Mimolette are some of the most popular hard cheeses. Hard cheeses are good food for fat, protein, and minerals like calcium, phosphorus, and sodium.
Mustard Packets (Mayo too)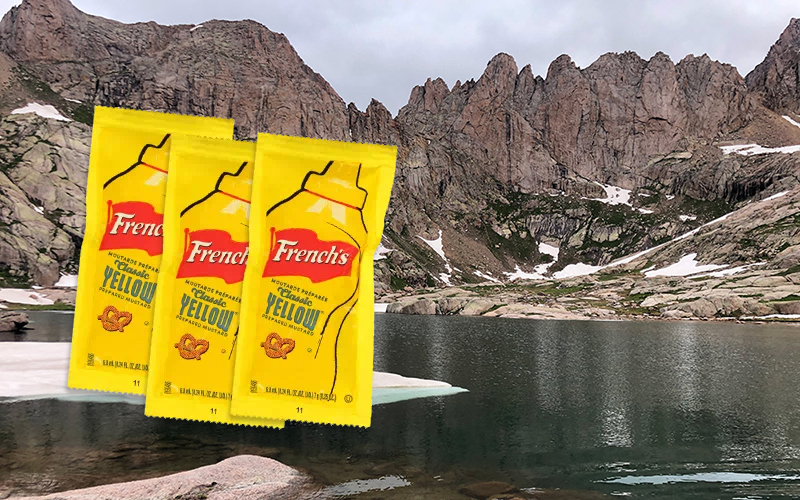 Make the pouch tuna and chicken taste incredible with little mustard packets (and of course some savory salt). Generally, nearly all mustard options are safe on the Keto diet.
I'd also recommend mayo – however, I don't know of any clean ingredient small mayo packets available. I'd rather have the crap ingredients and a little mayo for my pouch meals – you could always just grab a couple at a fast food restaurant (you don't need many).
Keto Camping Meals & Snacks
Having the best keto snacks and meals ready when you're out camping makes a difference. You know, I love camping but it's much less enjoyable if you don't have a bunch of fun snacks around.
You've gotten all the ideas for keto backpacking meals and snacks above. This section is in addition to those and these items require a cooler or camper fridge. They also may require some prep-time prior to going camping.
Keto Crunch Bars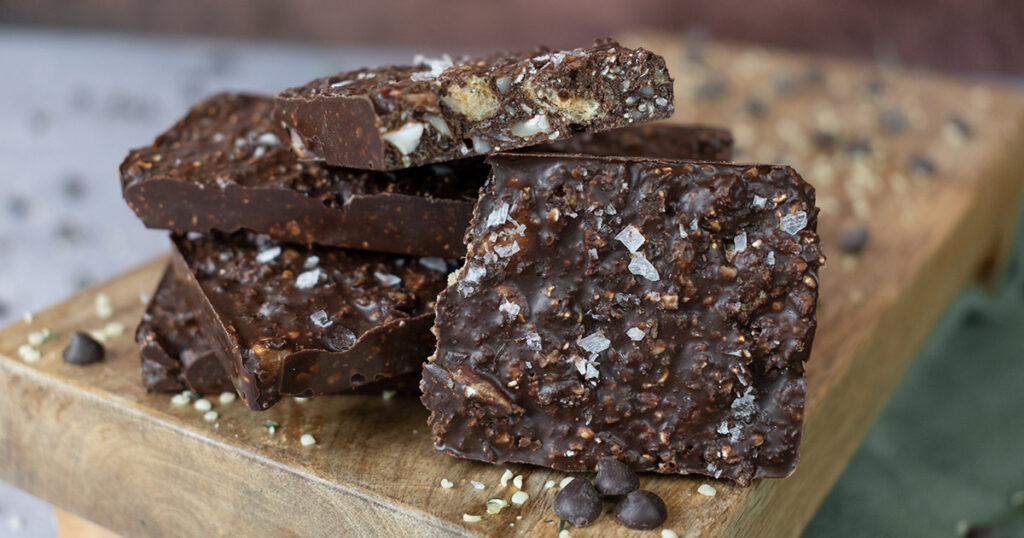 These crunch bars are super versatile and they're pretty easy to make. You can really get creative with what you add and having Keto treats like this makes eating Keto more affordable. Great cooler ready, Keto camping food
Lemon Cheesecake Fluff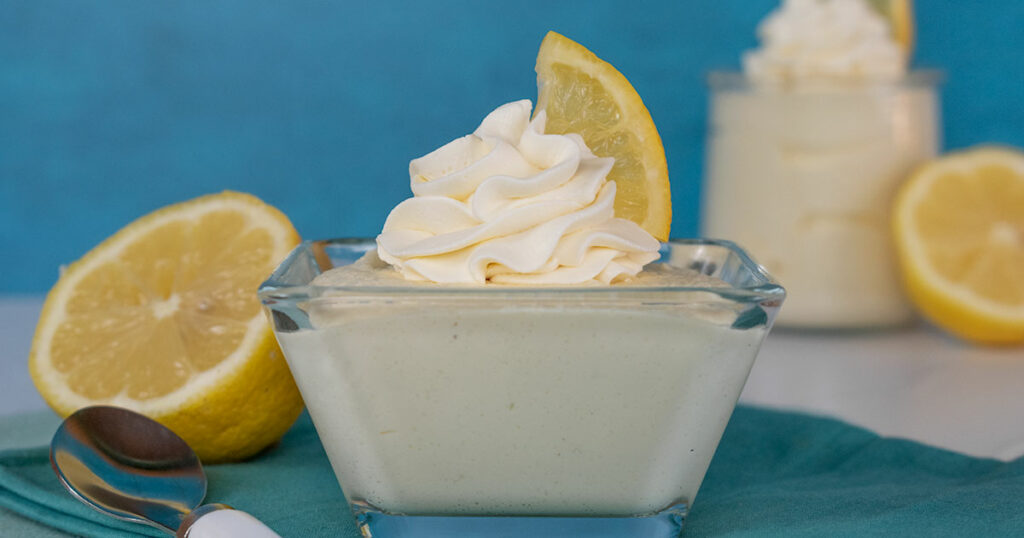 The taste of summer. This Keto Lemon Cheesecake Fluff is absolutely irresistible. It just tastes incredibly fresh – it's a high fat dessert but somehow it tastes light, you've got to try it. And as long as you've got a cooler or a camper fridge, this can store nicely in a container and be ready for an instant dessert.
Chocolate Covered Strawberries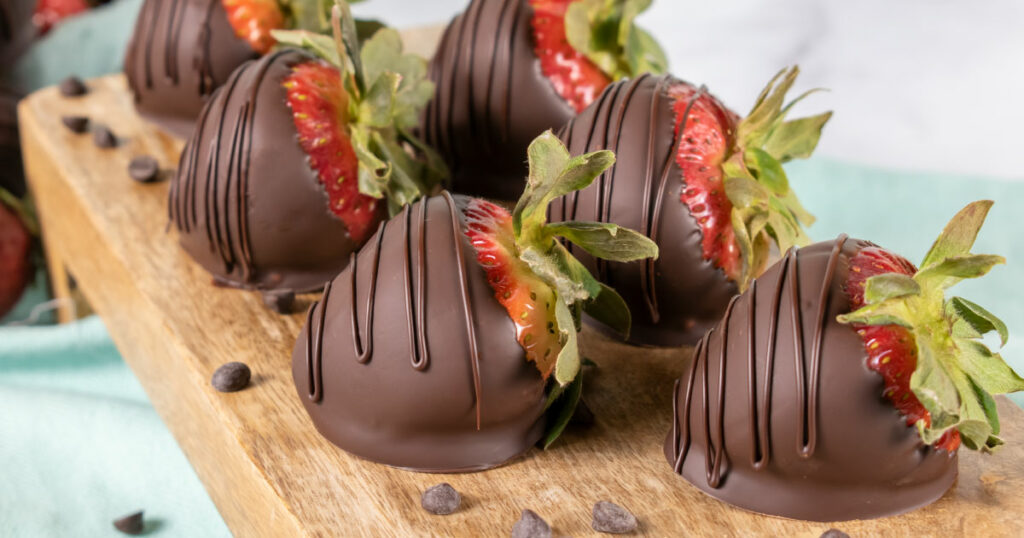 In a couple of minutes you can have these beauties ready to go and waiting in the fridge. Such a perfect dessert after whatever you're cooking up on the grill or over the fire. These chocolate covered Strawberries store well in a container and for some reason… even taste better when you're camping.
Smash Burgers & Special Sauce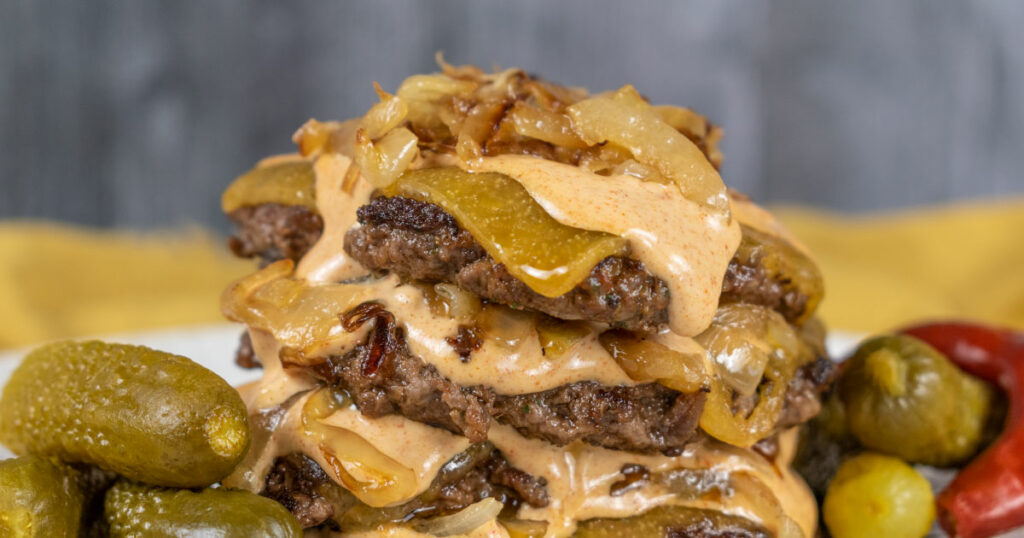 Prep the special sauce before leaving, this will be another item you'll keep cold in the camper fridge or cooler. For the patties, get the cast iron skillet and you're good to go. You can pre-prep these smash burgers and line them with parchment paper so there's limited prep time when you're out.
Beefy Marinara Bowl with Pepperoni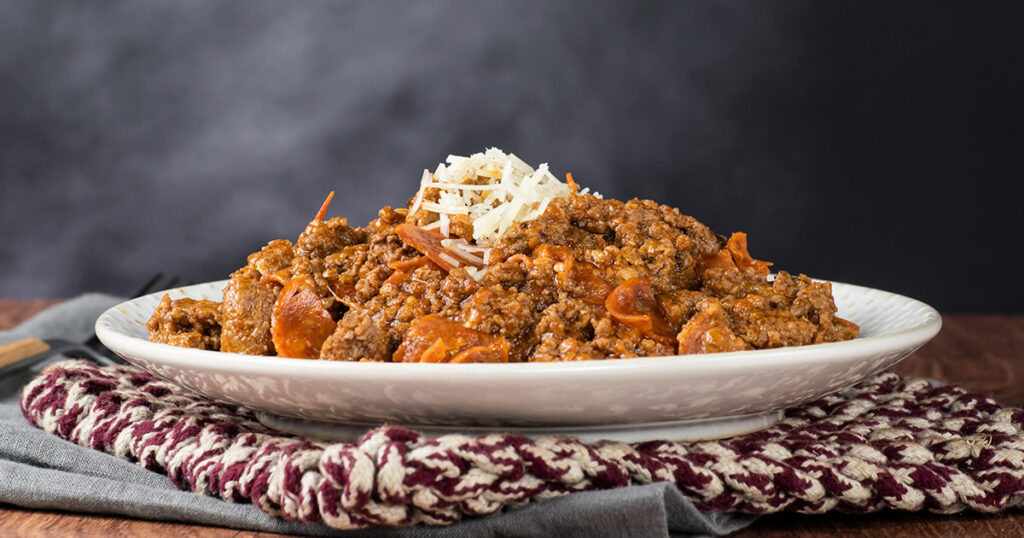 This may seem like a home cooked meal only but… the truth is you only need a cast iron skillet for this incredible marinara bowl. All you REALLY need is ground beef and a jar of marinara sauce (sugar free of course). So easy, and you could eat it right out of the skillet (no need to dirty the dishes).
Tuna Salad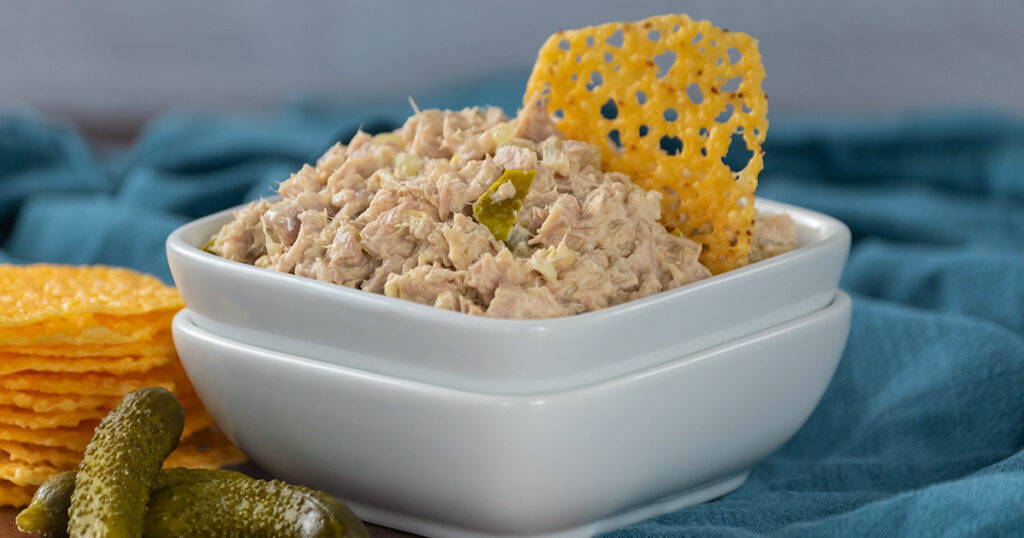 Make a big container of this tuna salad and toss it in the cooler. Ready to go for lunch in a pinch. And this too can be eaten out of the container (with no need for a big clean up).
Triple Meat Stew (prep-beforehand)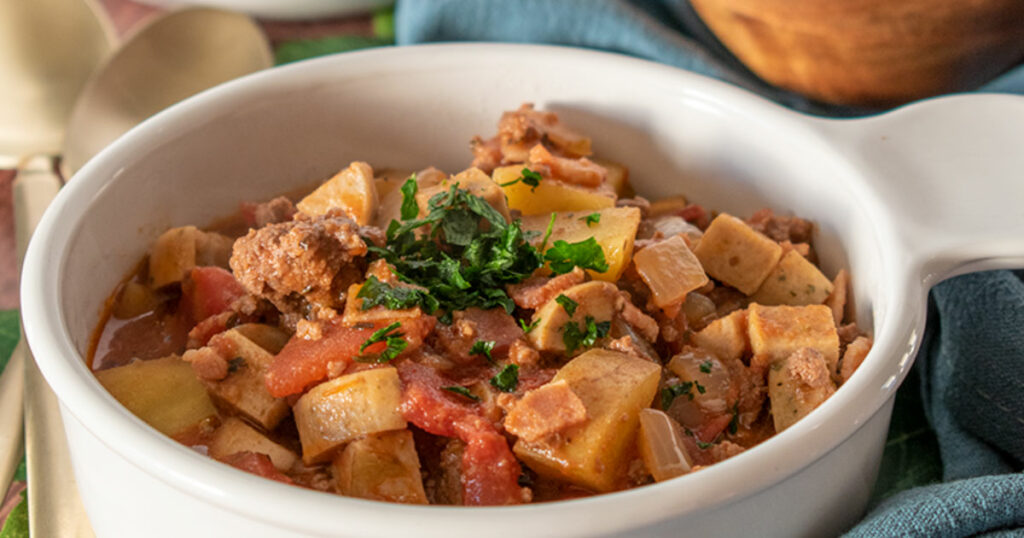 This triple meat stew is hearty and easy to heat up. A great option to prep beforehand and throw in the cooler. Just being able to heat up a pre-cooked meal is sometimes the best option.
Philly Cheesesteak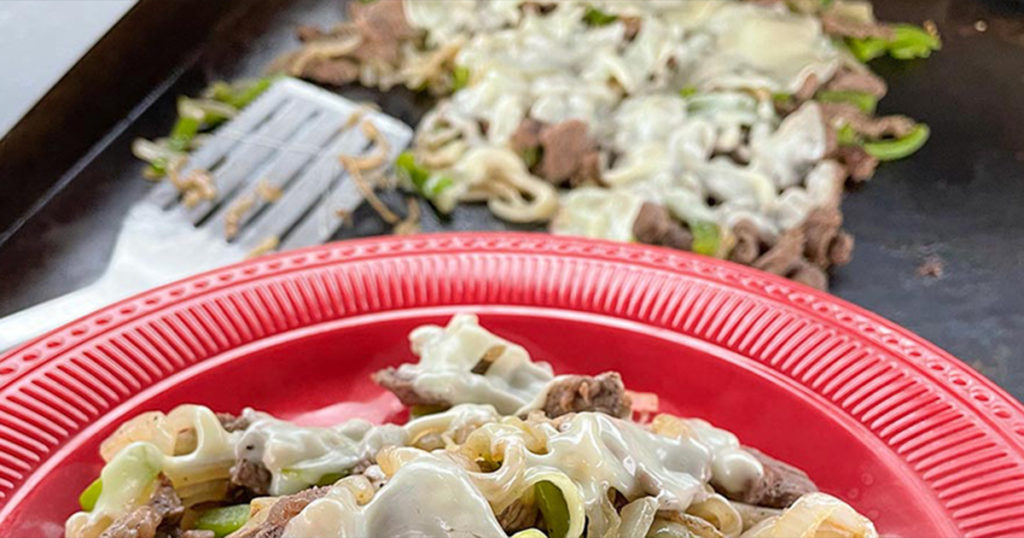 Bringing the grill or have a skillet available? This is one of those incredibly delicious and fairly simple to make Keto options that everyone will love. Making a Philly Cheesesteak while camping kinda makes you amazing.
No Bake Cookies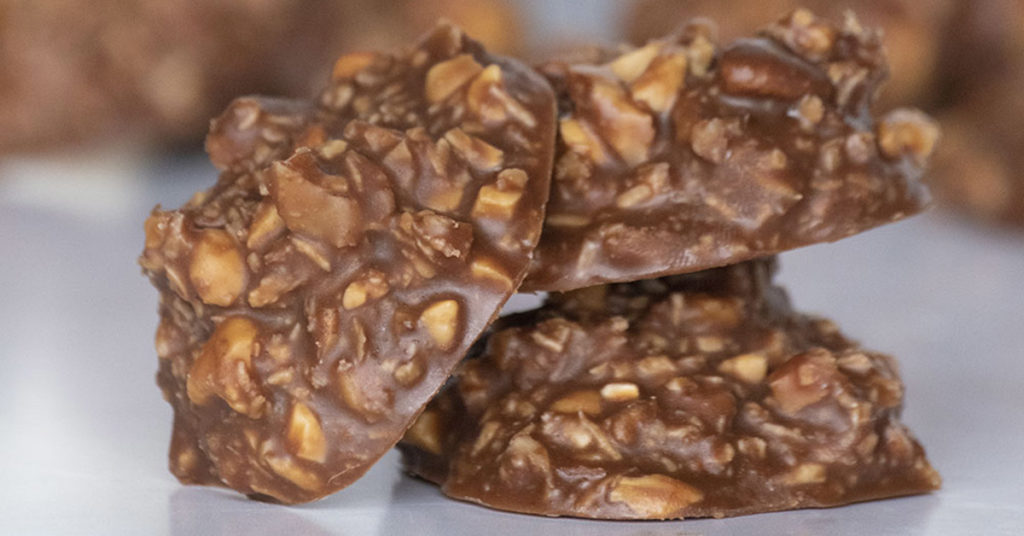 These no bake cookies are easy to make ahead of time and have ready in the cooler or mini fridge for dessert. Just make sure to keep them cold and make a lot cause they go fast.
Pigs in a Blanket (pre-made)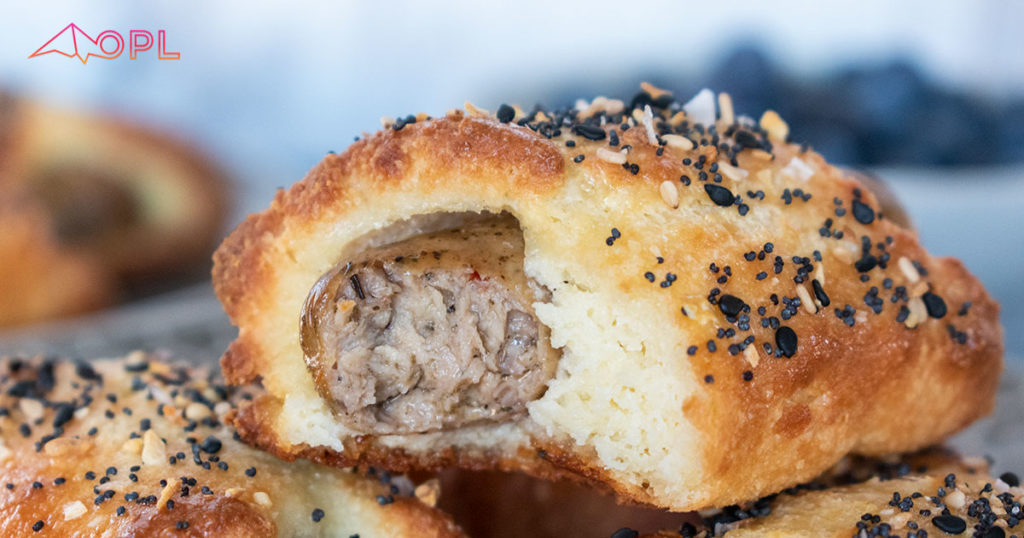 If you make these pigs in a blanket at home beforehand, all you need to do is throw them in a container in the cooler and heat them up over the fire in a skillet or on the grill. Great option to make the dinner or lunch situation even easier. They taste good (even better when camping) and there's virtually no clean up (you don't even need a plate).
Blueberry Crunch Champion Bars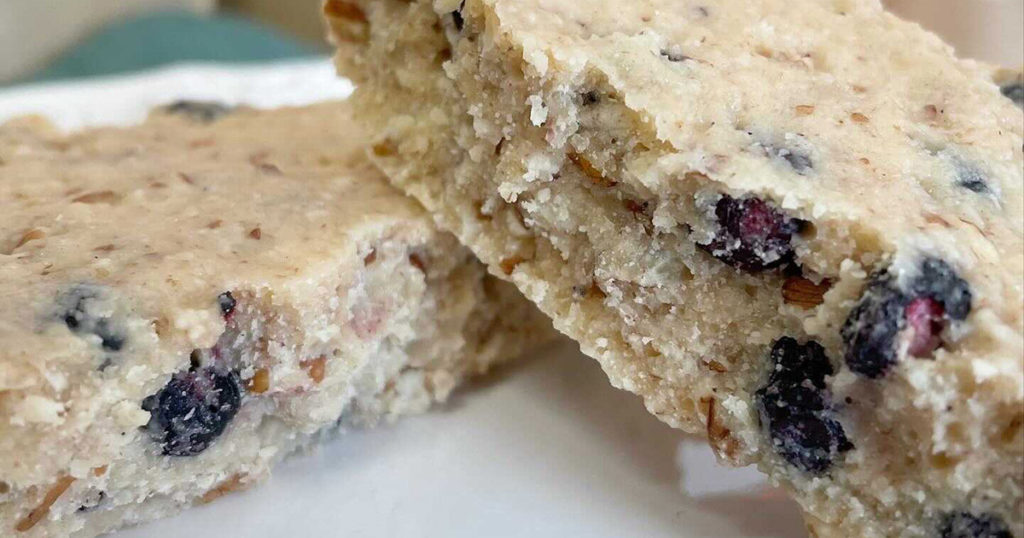 These bars are unique, delicious, and available to purchase (from us, at Cardnl) or you can make them at home. The Champion Bar is an almond butter based treat that's best served frozen (or at least cold) – so it's a great option to throw in the freezer then the cooler prior to departure.
Keto Bark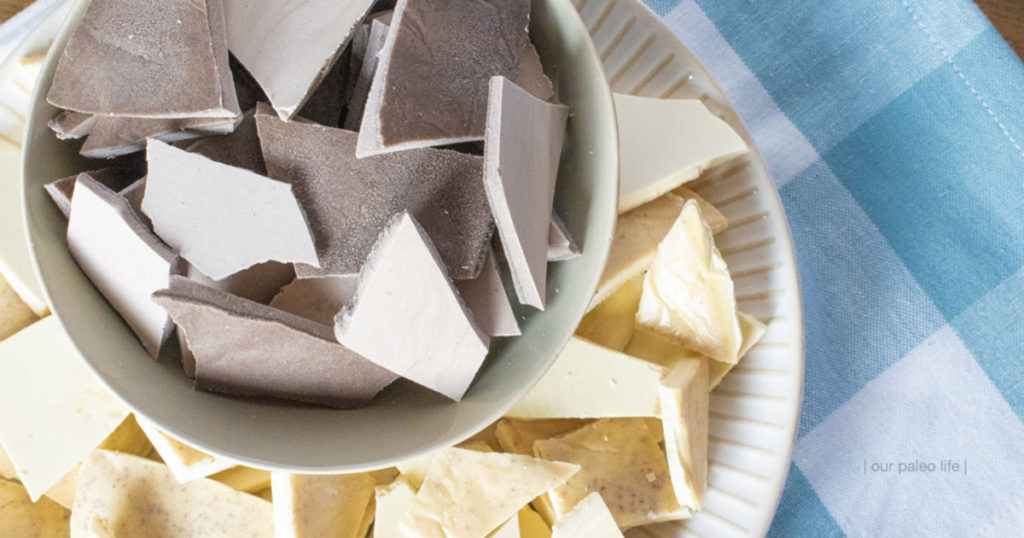 Another great snack that you'll prepare before leaving. This Keto Bark is so tasty and you can modify it to fit whatever tastes you love. Just make sure to keep this in the cooler too.
Italian Sub Roll-Ups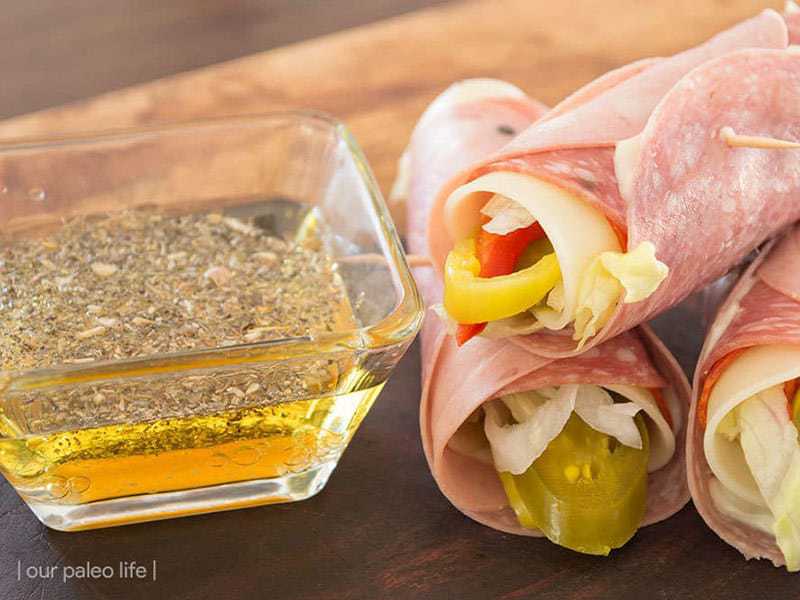 Easy to make ahead of time or assemble on the go. This might be a great option while traveling too. The Italian Roll-Ups really never get old (make sure to include the dip – it's amazing), solid choice for Keto camping food.
Over The Fire Keto Camping Meals
We're working on recipes just for this. Coming soon!
pin for later