Exactly what you need for a successful Reset.
4-Week Reset Meal Plan eBook
You could spend hours of research on how to plan out your Reset, getting the meal plan ready, prepping the grocery list – or you could take action right now!
Get over 60 delicious whole food recipes with a full 4 week meal plan with the exact shopping lists you need. This meal plan has been vetted and is in use currently by thousands of people just like you, looking to get a healthy reboot. Everything needed to have a successful reset in one amazing eBook.
Get the 4-Week Reset Meal Plan eBook for just $18.99
Get 50% OFF this eBook automatically when you buy now.
BUY the Meal Plan eBook NOW
Easy to Make Whole Food Recipes!
Thousands of people follow this meal plan with incredible results.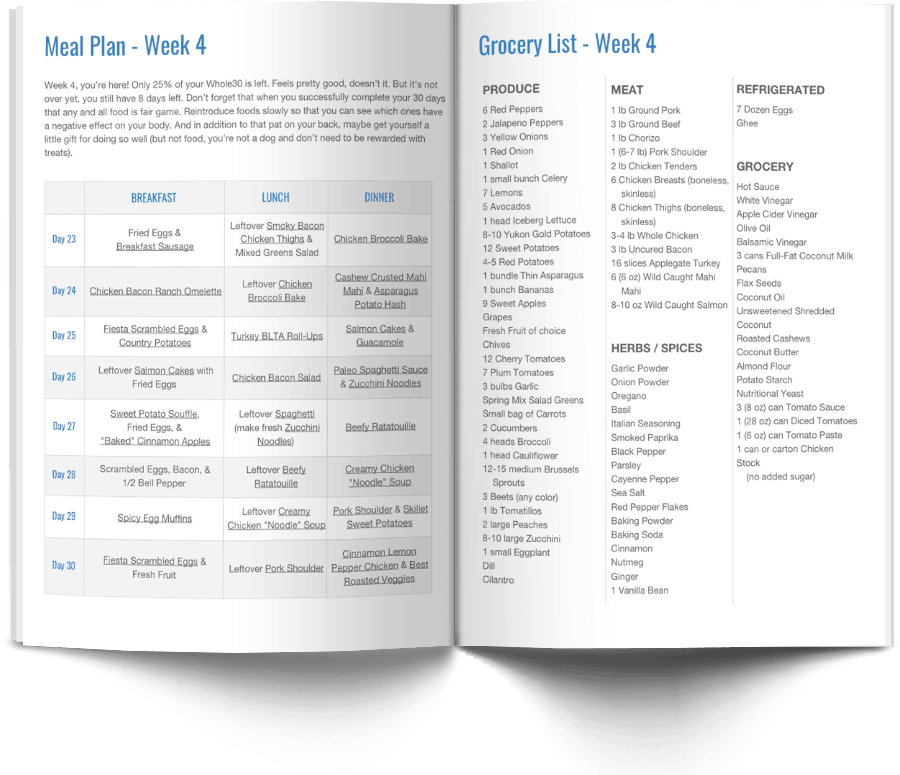 The 4-Week Reset Meal Plan You Deserve
Right at your fingertips (anytime)!
Full Recipes
Get over 60 delicious and complete, easy-to-make recipes with full instruction. The entire meal plan's menu is available at your finger tips. All recipes are referenced in each meal so they're easy to find with just a flip of the page.
Complete Meal Plans
Don't spend a single second worrying about "what's for dinner" with our 4 week meal plans. Not only is every meal (breakfast, lunch, and dinner) accounted for, but there are notes and tips on how to make the most of your time.
Easy-To-Print Layout
This eBook was created with printing in mind, with limited imagery and colors to save you printer ink. Simply send it to your printer with the two-sided option selected to easily access every list, plan, and recipe.
Printable Grocery Lists
We've done all the legwork for you and gone through each recipe and figured out your grocery list for all 4 weeks. Simply print it out and head to the store. One grocery trip a week is all you need to have a week's worth of healthy meals.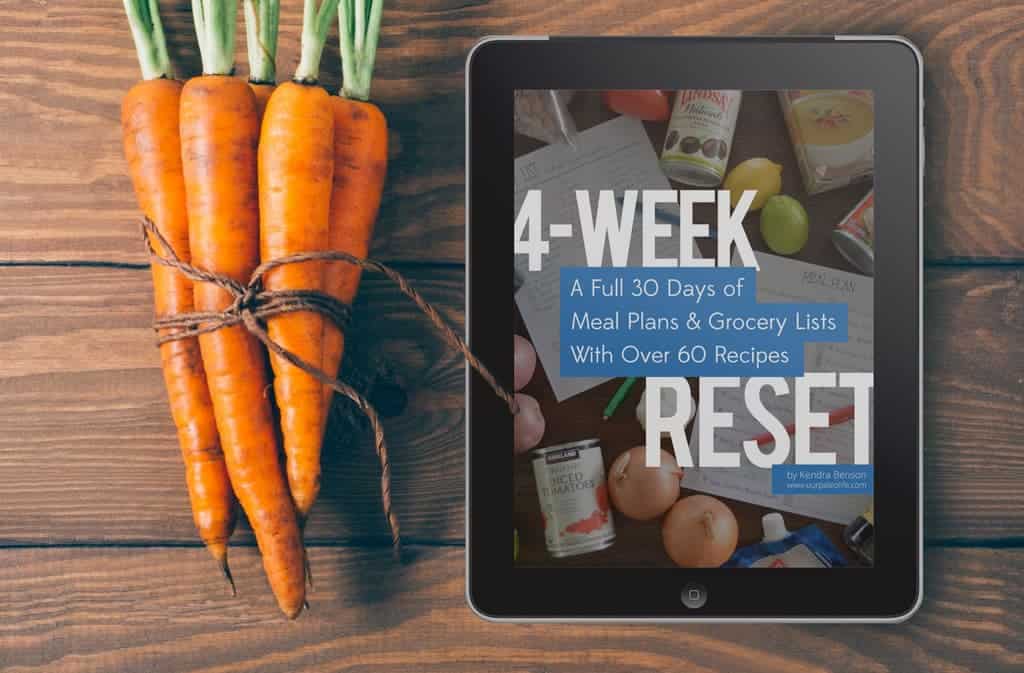 This 4-Week Reset Meal Plan eBook PDF can be downloaded on all devices so it can be viewed anywhere and everywhere without an internet connection. And even better? This 4-Week Reset Meal Plan eBook is printer friendly.
Click the button below to get it now for $18.99
What People are Saying
Sometimes you find something that changes everything.
Thank you so much for sharing your plans and recipes. My family is new to The Whole 30 lifestyle and your site has been a life saver! Thank you!! -HB
THANK YOU!!! We started your Whole 30/Paleo plan 2 weeks ago and have fallen in love with your recipes so far. I have to say watching my husband take seconds of the Balsamic Bacon Brussels Sprouts, and then gobble down the Roasted Vegetables and tell me that he could eat those at least once a week…SUCCESS!! THANK you for creating all these wonderful recipes, easy to follow meal plans and grocery shopping lists, that are easy enough for a mom of 3 young children to be able to balance out healthy eating and get my kids and husband excited about eating REAL FOOD!
Nobody else's recipes or website compares to yours. We did your Whole30 program to kick off the new year with amazing results. -DJ
This is awesome! Thank you so much for sharing your Whole 30 meal plan! I'm on day 2 of my first Whole 30 and your meal plan is a lifesaver! -A
I wanted to say thank you. I have been struggling on where and how to start Paleo/Whole 30. This is just what I needed. I very much look forward to any new plans you put out. -D
Thank you so much for sharing all of this!! My husband and I are starting Whole30 Monday and I have been searching the internet for delicious recipes that aren't overly complicated! Your meals plans are awesome, definitely the best I've seen. The grocery lists you provided are a nice touch too! Thank you!! -CB
Thank you so much for doing this! I feed 2 adults and 2 teens, so your proportions are perfect for us! I am excited to do my first Whole30, and your lists will make it so much easier. Thank you again for your time and effort in putting this together. -L
Thank you so much for this! I haven't found anything on Whole30 for 2 adults and 3 kids. So I have struggled. Thank you! -H
This is by far the best meal plan I found! It has flavor and variety, both of which I NEEDED in planning meals. My husband even ate all of this, and he tends to be picky. Thanks so much for putting this together!!!! -KK
Thank you so much for putting this all together and making it so easy to access and print. My husband and I are just starting week three and love the results we are seeing. These recipes are full and flavorful enough, that it has made it easier to jump in and follow the Whole30 plan without wanting to cheat. -M
Over 60 Complete Recipes Included!
Proven delicious and ready for you and your family. Here's a sampling of what's included:
All-Day Frittata
This go-to casserole is the perfect breakfast, with leftovers you'll want for lunch and dinner too.
Turkey BLTA Roll-Ups
Who said a sandwich has to be wrapped in bread? These rollups have all the flavor of you favorite deli sandwich without the grains.
Sloppy Joes
This classic comfort food gets a grain-free twist so the entire family can enjoy it.
Instant Strawberry Yogurt
No added sweeteners (just fruit) or hours and hours of incubating, this "yogurt" is ready in under 5 minutes.
Artichoke Meatloaf
Step out of the meatloaf box with this artichoke twist. Flavorful and unique, everyone in the family will love it.
Beefy Ratatouille
Ratatouille can be a complex dish, but not the way we do it. Fast and easy with added beef for a filling meal that is perfect for leftovers.
Chicken Broccoli Bake
It may not seem like much, but this dish is both filling and flavorful and everyone wants seconds.
Coconut Curry Chicken
Our family's favorite dinner will become a favorite in your home too.
Grain-Free Chicken Nuggets
Coated in shredded coconut, these chicken nuggets have a satisfyingly crunchy exterior and are juicy inside.
Spicy Egg Muffins
The ultimate make-ahead breakfast, these muffins store great in the fridge or freezer and reheat for a quick on-the-go breakfast.
Slow Roasted Pork Shoulder
One dinner that turns into many meals? That's what this pork shoulder can do.
Stuffed Peppers
These peppers are filled with meet and veggies and none of the gut-hurting stuff like rice and cheese.
Taco Salad
Taco Tuesday (or Wednesday, Thursday, etc) get a tortilla-less twist with this salad. Easy to make and even easier to eat.
Asparagus Potato Hash
What do you get when you mix asparagus, bacon, and potatoes? Our favorite side dish for breakfast, lunch, AND dinner.
Bacon Balsamic Brussels Sprouts
Brussels sprouts like you've never had them before. Everyone will be asking for more.
Crispy Bacon Broccoli
Can't get the kids (or husband) to eat their broccoli? They will now, and they'll love it too. Because bacon.
Egg Drop Soup
Better than restaurant quality, this soup can be eaten for breakfast luck or as a small side dish with dinner.
Skillet Sweet Potatoes
Once of our most popular recipes, these skillet sweet potatoes are the perfect side for any meal.
Balsamic Ketchup
Once you eat this ketchup, you'll never go back to store-bought ever again.
Paleo Ranch Dressing
Simple ingredients are used to make this dairy-free ranch dressing that works as a dip for many recipes in this 4-Week meal plan.
Creamy Chicken "Noodle" Soup
This classic homemade comfort food is loaded with flavor and has "noodles" made of carrot ribbons to mimic your childhood favorite soup.
More than 60 Whole Food Recipes!
Are you ready to start your Reset the easiest way possible?
Enter your email address below and buy the printable eBook for $18.99!